Comcast to show The Masters golf tournament in 3D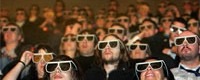 I mentioned last week that Panasonic's 3D home theater system is available in some Best Buy stores already. You might have thought that was fine and good, but with no 3D content yet you would hold off on the purchase. Comcast has now announced that it will broadcasting one of its first 3D programs on April 7-11 on TV and via the Internet.
The program in question will be The Masters golf tournament. The broadcast will be the first 3D broadcast of a major sporting event on TV, the first live simulcast of a 3D event online, and the first live multi-camera 3D production.
A dedicated 3D channel will be in use during the tournament and will show about two hours of content per day in 3D. The channel will offer different angles of the action than normal broadcasts. Naturally, you will need 3D-ready TV or computer gear to be able to view the 3D broadcast. Golf is a boring sport to watch, but in 3D it might be cool.