Color Kindle "a long way out" insists Amazon CEO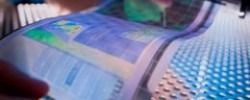 Hopes for a color Kindle refresh to better position the ereader against Apple's iPad have been dashed this week, with Amazon CEO Jeff Bezos telling company shareholders that the technology is "still a long way out".  The outspoken executive confirmed that Amazon have been looking into color e-ink displays, but said that what he'd seen "in the laboratory" were "still not ready for prime-time production."
The news will come as a disappointment for those would-be Kindle buyers who had held off picking up an iPad or other LCD-based tablet device in the hope that Amazon would introduce a color third-gen model sometime this year.  Previous rumors had tipped the online retail giant as looking at Qualcomm's mirasol technology, which uses an electromems system capable of color images at video-friendly refresh rates, only with the same outdoor-viewability as the Kindle's current monochrome displays.
Those displays are produced by E Ink, the industry heavyweight responsible for the bulk of panels used in the monochrome ereader business.  Back in March, news emerged that PVI, the owner of E Ink, had been demonstrating color panel technology to their customers, ahead of mass production in Q4 2010.