Color e-paper launch delayed to 2010; large-screen Sony ereader in 2009?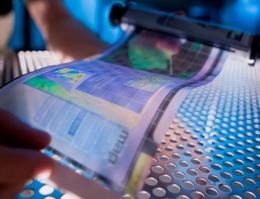 Bad news for anybody hoping for PVI's color e-paper before the end of 2009, as the company has pushed back the launch until 2010 having encountered "barriers to achieving satisfactory results".  To make up for the disappointment, however, PVI have tipped a larger ebook reader from Sony later in 2009, to compete with the recently-announced Amazon Kindle DX.
PVI chairman Scott Liu told reporters that, in an attempt to compete for market share with Amazon, he expects Sony to introduce their own larger-format ereader.  While the company has not confirmed it themselves, PVI is believed to provide the e-paper panel used by Amazon in their 9.7-inch Kindle DX. 
The color e-paper PVI is developing uses E Ink technology and color filters to answer one of the most common criticisms of current ereaders, that they can only display grayscale text and images.  PVI have confirmed that they will be launching various sizes of B&W e-paper this year.
[via MobileRead]