Colin Powell's Facebook hacker also breached Bush Family e-mail accounts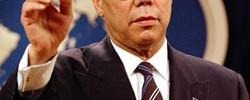 It turns out that Colin Powell's Facebook hack wasn't just an isolated incident performed by a 13-year old with good password-guessing skills. The hacker, who is known as Guccifer, is also the same hacker who breached e-mail accounts belonging to over a dozen of George W. Bush's friends and family members. He obtained "interesting e-mails", photos, list of home addresses, cell phone numbers, and more. The hacker even obtained the gate code to Bush's home.
Guccifer took over Colin Powell's Facebook and made posts that were vulgar, juvenile, and in all caps. Guccifer had also uploaded various private photos to Colin Powell's Facebook as well. One of the photos showed George H. W. Bush lying in a hospital bed, another showed George W. Bush "wearing" a Ku Klux Klan hat, and there were a few self-portraits of Bush in a bath, taking a shower, and attending church.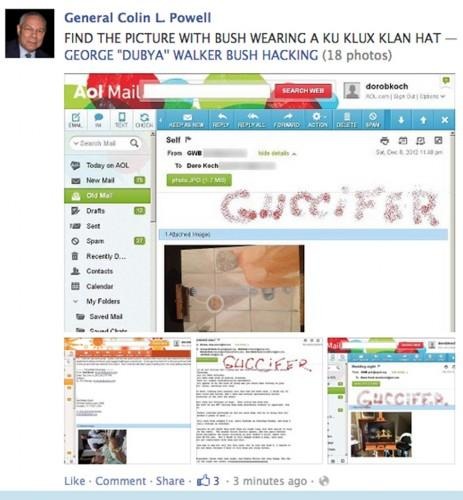 There were many references made on Powell's Facebook page that claimed George W. Bush was affiliated with the Ku Klux Klan, and that the entire Bush family were "puppets of the Illuminati." Guccifer posted on Powell's wall, "Kill the Illuminati! Tomorrow's world will be a world free of Illuminati or will be no more." The hacker has stated that he has no intentions of stopping his attacks on the Bush administration.
There has been a federal criminal investigation on Guccifer ever since he breached Bush's e-mail accounts back in early February. Along with those e-mail accounts, Guccifer had also accessed the accounts of U.S. Senator Lisa Murkowski, a senior UN official, security contractors in Iraq, and several former FBI agents. Colin Powell's hack is the latest attack in this case, and judging from the timing of the attacks, there may be another hit within the next 2-3 weeks.
[via The Smoking Gun]