CoinYe West is the newest Bitcoin, destroyed in one day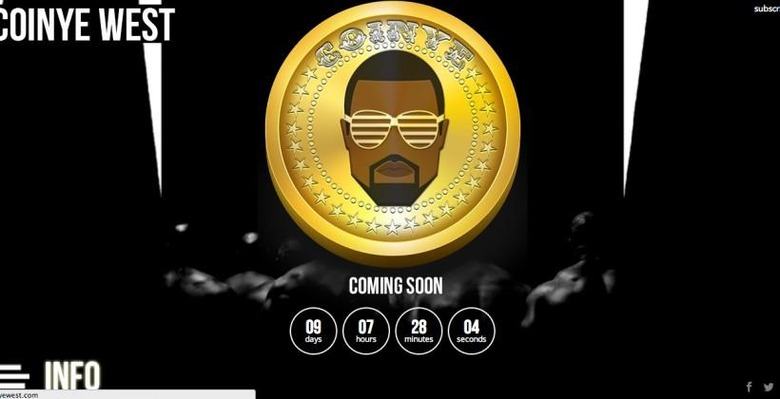 Users of the crypto-currency called Bitcoin have some competition out in the wild this week in the artist-inspired CoinYe West. This currency, while lovely to look at, will likely never take off the ground due first of all to the fact that their website has been taken off the internet in less than a day after announcement. Second – Kanye West isn't exactly the type of person to let someone else cash in on his name.
This isn't litecoin, and it's certainly not Dogecoin, but it's likely set to last as one of the stranger entries into this fad-inducing currency creation event series we're in the middle of. Over at Vice, they've interviewed the creators of CoinYe West, finding out that they've not gotten the permission of West from the start.
They do suggest that they're working around-the-clock to create a mining program so people can earn their own CoinYe West currency, and that they don't believe Lil B or Drake deserve their own currency as such. While Bitcoin is, as they're suggesting "for hardcore money-hoarders", and Dogecoin "was for the internet-meme crowds", CoinYe West is supposed to be "for the masses."
On the other hand, the CoinYeWest.com website is already down – retracted to its Hostmonster roots. When this article is posted, there'll have been a couple major publications reporting on the subject – meanwhile most the chatter is on how neat the coin looks in the first place. Certainly an excellent class project by whatever art school student is bringing it all to light.