IBM's Watson supercomputer may not be the first pseudo-teacher you'd think to leave with your child, but startup Elemental Path thinks wrapping the cognitive computer in a cute dinosaur casing might change that. CogniToys – currently a cute green dino, but with other shapes and species expected to follow – pair Watson's ability to learn, remember, and adapt with a speech recognition engine, so that – so the theory goes – as kids play the dinosaur can quietly broaden their learning while personalizing it to keep them engaged.
It's based on on the Watson API that IBM launched back in late 2013, allowing third-party apps to tap into the cleverness of the supercomputer. The cognitive processing has already been used in myriad ways, including selectively showing the "best" range of products to each shopper on webstores, and health advice from virtual doctors.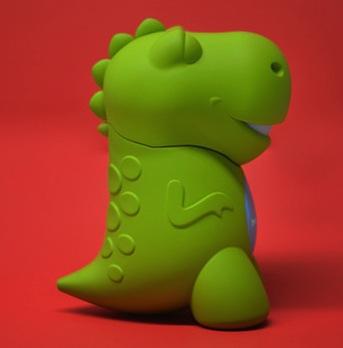 For CogniToys, those smarts are implemented in the name of secretly promoting education while hiding it as play. Once told, the dinosaur remembers personal details like the child's name, their favorite sports and activities, and other information, and then throws that into natural conversation so as to make the toy more "friend-like".
Ask "who", "why", "where", or "when" questions, meanwhile – across categories like rhyming, spelling, vocabulary, and mathematics – and there's not only an age-appropriate answer delivered but in a way that's meant to keep the child curious.
Meanwhile, it can also tell stories and jokes. A companion web portal for parents shows the current progress, as well as allowing the content and focus to be tailored.
We'll just have to hope Watson's learned ability to curse doesn't accidentally give the dinosaur a filthy mouth.
CogniToys is launching on Kickstarter today, with a $50,000 goal. Those jumping on early can get the dinosaur for $89, with general sales at $99.
SOURCE CogniToys