CLVE TVBE nettop PC offers single or dual-core Atom CPU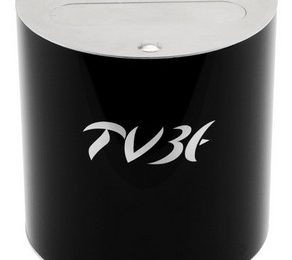 German PC manufacturer CLVE have unveiled their latest desktop PC, and it looks a little like a home brewing kit.  The TVBE is a 9.6-inch tall cylinder containing a choice of single or dual core Intel Atom 1.6GHz processors, 1GB or 2GB of RAM, 320GB or 500GB hard-drive and a DVD burner.  It's being billed as an environmentally-sound alternative to a full PC, with low electricity running costs and minimal fan noise.
Connectivity includes six USB 2.0 ports (two on top, four underneath), parallel port, serial port, VGA output, two PS/2 ports, ethernet, speaker output, line in and microphone sockets.  The dual-core Atom processor version adds S-Video output and cranks the ethernet connection up from 10/100 to 10/100/1000.  Each has a 22x DVD burner and optional WiFi b/g.
The CLVE TVBE is currently available in Germany, priced from €299 including taxes ($383) for the single-core model and from €349 ($448) for the dual-core.  Both run Linux as standard, with XP or Vista as options.  Availability in other locations will apparently follow.
[via iTech News Net]