ClearOhm hands-on: any surface turned into a touchpad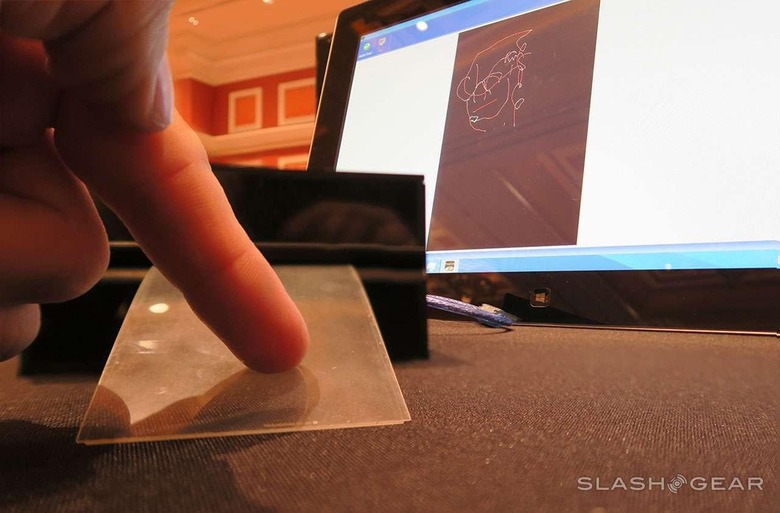 The bottle of liquid you're going to see in this article is filled with millions of tiny metal wires. Silver Nanowires permeate this bottle of liquid, each of them highly conductive – enough to sense human touch. Cambrios makes this substance, calling it ClearOhm, Silver Nanowire Coating Material. With it, manufacturers are able to turn strange and varied surfaces – even bendable, transparent surfaces like this piece of plastic – into touch-sensitive surfaces with which they're able to control computing devices – like this simple doodling interface.
What you're seeing here is an example of what's possible with ClearOhm. This super-simple setup has a transparent piece of plastic coated with ClearOhm and connected to a tiny computing interface (inside the black box). With this setup, the piece of plastic is effectively converted into a touchpad for the computer that sits behind it.
What we're doing here is doodling on a touchpad that's both transparent and entirely bend-friendly.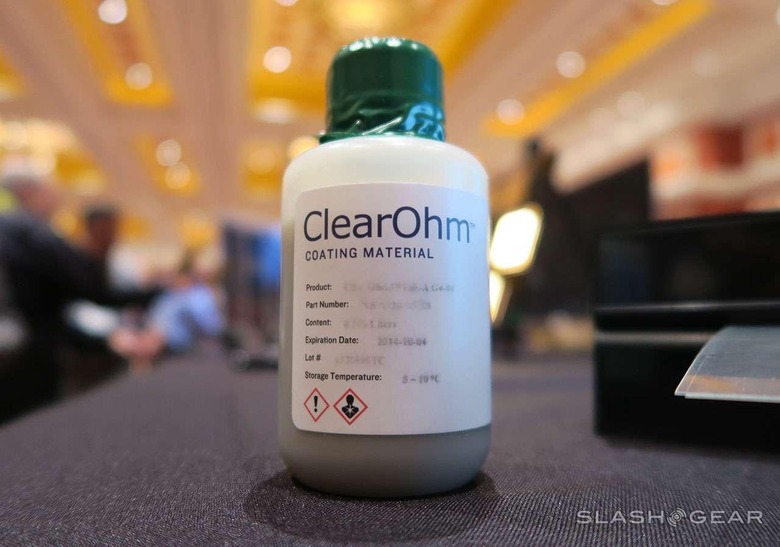 The Cambrios team are positioning themselves as the leader in silver nanowire solutions. Given the relatively small market in such material out in the wild today, one could hardly argue with them.
What we're likely set to see in the near future is selection of devices with bendable or even rollable surfaces making use of this material for strange applications.
Given ClearOhm's ability to work on solar cells, OLED displays, lighting, all-in-one computer screens, touch panels for laptops and more – we'd not be surprised to hear from Cambrios that they'd spread this material over masses of smart devices in the near future.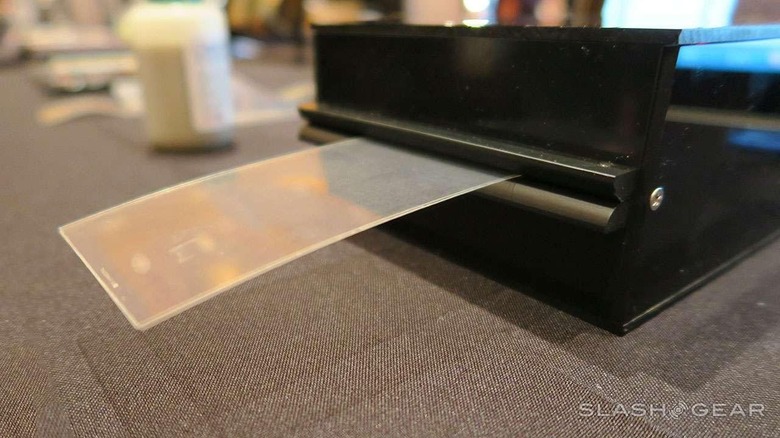 NOTE: We've actually seen this ClearOhm material before – one year ago, in fact, at Showstoppers during CES 2014 as well! Since then they've come up a bit in the world – touch surfaces of all kinds are coming your way soon.