Classe SSP-800 audiophile preamp & processor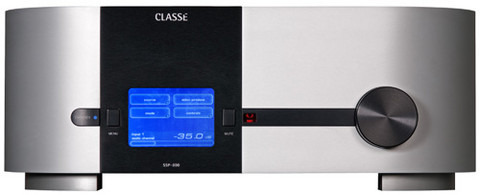 If you're serious about home entertainment then you've likely heard of Classe, the high-end audio and video specialists.  If you've a spare $8k and a desire to upgrade your preamp/processor, then their SSP-800 might tick all your luxury boxes; slotting into the company's Delta range, it has ten channels with upgradeable DSP and a video signal path that can support 36-bit Deep Color Video (Blu-ray is a mere 24-bit).  There's also a slick touchscreen control panel on the front.
The DSP processor is a 64-bit Texas Instruments model, while there are separate power supplies for analog audio and digital audio & control circuits.  The analog side has a low-noise toroidal transformer, while the digital/control side uses a dual-output, low-noise, high-current switching supply.  Each channel offers balanced or single-ended connections.
Frankly this is nowhere near a budget buy, and the rest of your home entertainment setup would have to be considerable to warrant the SSP-800.  Classe offer their own range of matching DVD and CD players, together with power-amps and integrated amps, that you'd need a small fortune to afford.  If your credit card can stretch to it, the SSP-800 is expected to land later on this month.
[via Engadget HD]