Clarion MiND MID launches for $650: GPS, WiFi & mediocre battery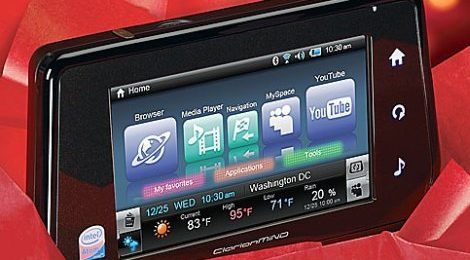 We may receive a commission on purchases made from links.
Clarion's MiND Mobile Internet Device (MID) has finally been launched, offering GPS, WiFi and Bluetooth in an ultraportable format.  Controlled via a 4.8-inch WVGA touchscreen, the MiND has a 4GB SSD, microSD card slot and comes preloaded with maps of the US and Canada.  POIs are offered up by Google Maps.
Based on an Intel Atom CPU, the MiND runs Midinux (the same OS as the aigo MID) and comes with a Firefox-based browser, YouTube and MySpace apps, and integrated RealPlayer.  RAM is 512MB and there're also two USB 2.0 ports.  Less impressive is the claimed 1.5hrs of battery life, which wouldn't be such an issue in the car but does put a dampener on using the MiND as a portable MID.
The MiND is priced at $649.99 with free shipping in the US.  Clarion have previously confirmed that a 3G-enabled version of the MID will be coming in Spring 2009.  European releases for the existing model are expected in January 2009, priced at €649.99.
[via Pocketables]