Cisco umi 1080 telepresence kit gets price & plan reduction; umi 720 and free app incoming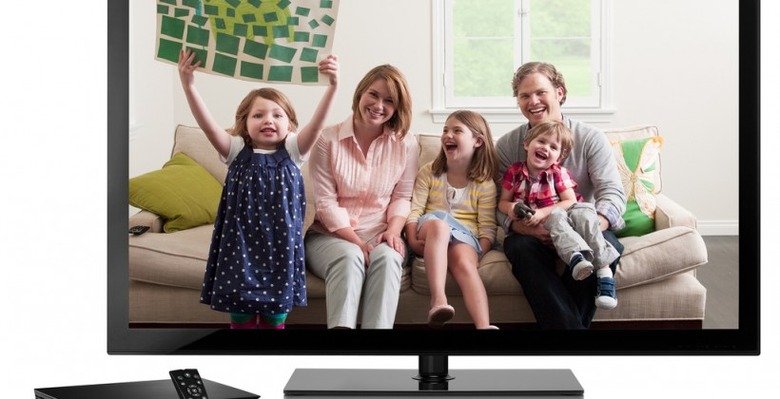 As far as we're aware, Cisco's umi 1080 telepresence system hasn't exactly taken the video calling world by storm – the company itself says that, since the set-top camera went on sale in October 2010, "thousands of people" have used it – but perhaps a price cut, a cheaper model and a free computer app will address that. The Cisco umi 720, as the name suggests, will demand less broadband speed for reduced image quality, with a lighter impact on your wallet.
The original umi 1080 is now down to $499 (from $599), while the umi 720 will arrive at $399. Both will still require a service plan, either $99 for the year or $9.95 per month; still, that's a lot less than the $275 annually/$24.99 monthly Cisco was previously demanding.
As for the softphone version, that's Cisco umi Connect, a PC and Mac client for HD video calls that's expected to be offered – free, and free of service fees – as a full app this summer. We're still not convinced that any of this telepresence kit will make significant headway into the domestic market, especially with the growth in HD webcams on notebooks.
Press Release:
Cisco Connects Businesses to Consumers via Video; Announces Seamless Connectivity between ūmi and Cisco TelePresence and Expansion of Consumer TelePresence Portfolio

SAN JOSE, Calif. – March 7, 2011 – Extending the company's success in telepresence, Cisco today announced that it is enabling businesses to connect with consumers via full interoperability between Cisco ūmiTM and the Cisco TelePresence portfolio for businesses. Cisco is also announcing an expansion of its ūmi product line with a range of options, from free HD desktop video to high-quality immersive telepresence experiences on an HDTV.

Business Services in the Home

As video communications becomes pervasive, businesses and consumers are increasingly looking to augment in-person meetings and interactions with lifelike video experiences. With today's announcement, ūmi users in the home will be able to connect with businesses over telepresence, paving the way for innovative new video services such as distance learning, tele-health, virtual professional services and community services. For example, there are currently field trials underway in Korea that connect Cisco TelePresence and ūmi systems in the home to offer business and government services to consumers through their HDTVs.

Expanded ūmi Product Line

Key to today's announcement is the extension of the ūmi product line, making home telepresence experiences available to more consumers. ūmi is a first-of-its-kind, easy-to-use consumer product that delivers a high-quality, immersive video calling experience that goes beyond just seeing the people you talk to. The expanded portfolio includes:

Cisco ūmi Connect, a free HD calling client for PC and Macs (currently in trials);

Cisco ūmi 720, a new product that delivers an immersive telepresence experience with lower broadband requirements, which will be available at $399;

Cisco ūmi 1080, the original breakthrough telepresence offering for the home now available at a reduced price of $499.

The service fee for Cisco ūmi 1080 and 720 is now $99.00 a year, or $9.95 a month. There is no service fee for ūmi Connect for PC and Mac.

ūmi 1080 and 720 include an HD camera, a console and a remote. Unlike video chat, ūmi telepresence was specifically designed for the living room and group-to-group conversations, delivering a truly immersive and lifelike video experience that fits into every home, automatically adjusting to lighting conditions and background noise to provide the most natural communications experience possible. Both ūmi 1080 and 720 products offer optical zoom and automatic pan and tilt to deliver close up and room size experiences.

ūmi 1080 and 720 connect to any existing HD television and broadband internet connection to deliver a high-quality, HD video calling experience in the home. The new Cisco ūmi 720 requires less bandwidth, 1.5 mbps upload and download speeds which are readily available across most of the U.S. Both versions of Cisco ūmi intelligently adapt to the quality of the broadband in the home.

Sharing Video Experiences

In addition to its immersive and lifelike experience and incredible ease of use, ūmi also offers HD recording and sharing on FaceBook, Flipshare and You Tube. In the case of a missed call consumers can leave video messages for one another. Both recorded videos and messages can be retrieved from a PC, Mac or smart phone. In addition, with Cisco ūmi telepresence, users can also place and receive video calls from anyone with a computer (PC or Mac), webcam and ūmi Connect or Google Video Chat.

"With today's announcement, Cisco is continuing to deliver innovative, market-leading video and telepresence solutions that enable consumers to connect and transact with businesses from the comfort of their home," said Marthin De Beer, senior vice president, TelePresence, Emerging Technologies & Consumer Business, Cisco. "By offering a range of video solutions – from high-end Cisco TelePresence for business to the free Cisco ūmi Connect product, we are extending our leadership in telepresence and driving the pervasive use of HD video."

ūmi for Service Providers

Today's announcement gives consumers, businesses and service providers the industry's widest choice of high-definition telepresence video communications options. Verizon will be launching ūmi for its FiOS network this year. In addition, ūmi is in field trials with service providers in Europe, Latin America and Asia.

Availability

Cisco ūmi 1080 is now available for 499.00 at Best Buy Magnolia and at bestbuy.com; Cisco ūmi 720 is scheduled to be available for $399.00 early this summer. Cisco ūmi Connect is in beta trials and is scheduled to be available via free download this summer.