Cisco buys Flip Video team for $590m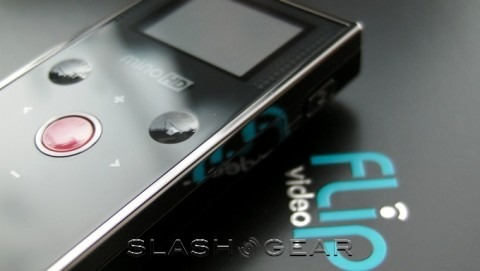 Value, like beauty, is in the eye of the beholder: that's obviously why Cisco have announced plans to buy Pure Digital – the company behind the much-esteemed Flip Video camcorders – for a huge $590m in stock.  The announcements comes after recent rumors of a half-billion deal that many dismissed as far-fetched given the current economic climate.
According to Cisco, though, the deal makes perfect sense, giving them an easy-in to the "media-enabled home".  More than two million Flip Video camcorders have been sold, a figure Pure Digital put down to the simplicity of the device and the easy to use FlipShare software that accompanies it.
The Pure Digital team will, once the acquisition is complete, join the Linksys team in Cisco's Consumer Business Group.  Pure Digital CEO Jonathan Kaplan will then report directly to Ned Hooper, SVP of the Cisco group.  The deal is expected to close in Q4 2009, and as well as the $590m in stock options will include $15m in "retention-based equity incentives" for Pure Digital employees staying on under their new Cisco overlords.
Press Release:
Cisco Announces Intent to Acquire Pure Digital Technologies, Makers of Flip VideoTM

Networking Leader Adds Popular Flip Video Solutions to Consumer Portfolio

Photos

SAN JOSE, Calif. – March. 19, 2009 – Cisco today announced its intent to acquire privately held Pure Digital Technologies Inc. San Francisco-based Pure Digital, creator of the best-selling Flip VideoTM brand, is a pioneer in developing consumer-friendly video solutions with mass-market appeal.

"The acquisition of Pure Digital is key to Cisco's strategy to expand our momentum in the media-enabled home and to capture the consumer market transition to visual networking," said Ned Hooper, senior vice president of Cisco's Corporate Development and Consumer Groups. "Pure Digital has revolutionized the way people capture and share video with Flip Video. This acquisition will take Cisco's consumer business to the next level as the company develops new video capabilities and drives the next generation of entertainment and communication experiences."

Pure Digital's Flip Video has sold more than 2 million units and quickly demonstrated market appeal in the United States by making video simple, accessible and fun. All Flip Video products come equipped with FlipShare, a best-in-class software that allows users to easily organize and edit videos and then share them instantly on YouTube, MySpace and other popular sharing Web sites.

"Flip Video puts the power to instantly capture, edit and share video into the hands of everyday consumers," said Jonathan Kaplan, chairman and CEO of Pure Digital. "By combining forces with Cisco, we join a company that shares our passion for video and whose global scale and tremendous technology expertise we expect will enable us to quickly expand and enrich the Flip Video experience."

Upon the close of the acquisition, the Pure Digital team will become part of Cisco's Consumer Business Group, which includes Linksys® by Cisco® home networking, audio and media-storage products. Kaplan will become general manager of the combined organization, reporting to Hooper.

The Pure Digital acquisition exemplifies Cisco's "build, buy and partner" innovation strategy to move quickly into new markets and capture key market transitions. Under the terms of the agreement, Cisco will pay approximately $590 million in stock in exchange for all shares of Pure Digital. In addition, Cisco will provide up to $15 million in retention-based equity incentives for continuing employees. The acquisition is subject to various standard closing conditions and is expected to close in the fourth quarter of Cisco's fiscal year 2009. The acquisition will be accounted for in accordance with generally accepted accounting principles.