CinemaView Mini DisplayPort LCDs updated; new dual-HD TV tuner

Collins America have already reworked their CinemaView displays – best known for offering Mini DisplayPort connectivity suitable for use with Apple's latest MacBook and MacBook Pro models – despite none of the original monitors being available for sale.  The company has dropped the smallest models, the 19-inch CinemaView 19 and 20.1-inch CinemaView 20, and added the 47-inch CinemaView 47, a combination TV and PC, and an external HD TV tuner.
The CinemaView 47 also gets four USB 2.0 ports, and runs at 1920 x 1080 resolution with 500 cd/m2 brightness, a 4,000:1 contrast ratio and 4ms gray-to-gray response time.  Its smaller sibling is the CinemaView 24, a 24-inch 1920 x 1080 display again with four USB 2.0 ports and a Mini DisplayPort, with 300 cd/m2 brightness, 1,000:1 contrast ratio and half the gray-to-gray response time.
Finally, Collins America have announced the CinemaView TV, a compact TV tuner box with two HD tuners with picture-in-picture, that can output to either HDMI or Mini DisplayPort.  It includes both powered and non-powered 5.1 channel Dolby Digital surround sound outputs, analog and digital audio inputs, and component/composite video, plus an RF remote control.
The CinemaView 24 will go on sale in October this year, priced at $499.  The CinemaView 47 and the CinemaView TV will follow in January 2010, priced at $1,499 and $399 respectively.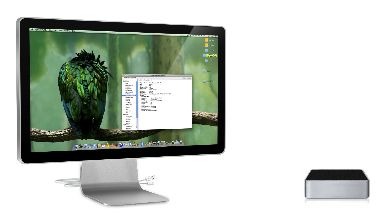 [via Electronista]