First Non-Apple Monitors To Feature Mini Display Port Announced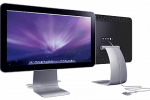 Want to play with Apple's new video connection standard, but don't want to shell out $800? Collins America has announced the first new line of LCD monitors to utilize Apple's new Mini Display Port standard. The CinemeView LCD displays are made specifically for Macs and the first three models will be available before September 1st, 2009.
The three initial CinemaView displays will be sized at 19 inches with 1440x900 resolution, 20.1 inches at 1650x1050 and 24 inches at 1920x1080. The prices are $299, 399, and $499 respectively. All displays have 3 USB 2.0 ports, a passthrough stereo audio jack, and an all in once cable to connect them to your new Unibody Mac, or desktop. No built in webcam however, and it looks like we're going to have to live with glass screens, so anyone that doesn't want glossy is out of luck. The displays are a good semblance of the Apple Cinema Displays with an aluminum and black motif.
Apple made the Mini Display Port free to license soon after the new port was announced. They did this with the intention of allowing other companies and manufacturers to produce products to work specifically with Macs, especially LCD displays. There could be non-Apple computers to utilize the connection standard as well, since the MDP is free to license, and there are no restrictions on product type.  Currently, only the most recent refreshes of Apple computers have the Mini Display Port.
Want to get your hands on one? You can make reservations at CinemaView for one.