chumby sunfury touchscreen tablet spotted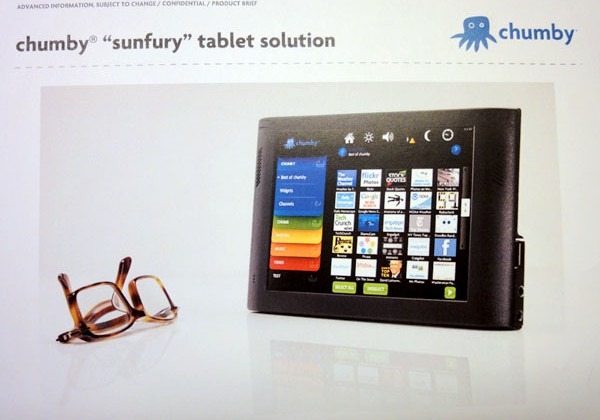 The problem (well, one of them) with CES is that, while this year's show was a little smaller than in previous years, there's still no way you can work your way around every corner of every booth, make every press conference and see everything on offer.  Happily chumby's incoming next-gen tablet was spotted by technabob, and they have all available details on the chumby sunfury too.
The above image was discovered in a dark corner at Marvell's stand, accompanied by a spec sheet.  According to that, the chumby sunfury will have a 7-inch 800 x 480 touchscreen with WiFi b/g and optional 3G.  There are also stereo speakers and – like the existing, smaller chumby models – the device will boot from a microSD card for easy hacking.
Also wide open for modification are the apparent optional video camera input, 3-axis accelerometer and expandable I/O option card.  Both 800MHz and 1.2GHz versions are promised, which a little sleuthing suggests are from the Marvell PXA168 processor range, while RAM is either 128MB or 256MB.  The usual chumby widget platform – which Sony are also using – means support for YouTube, Pandora, Flickr and Facebook widgets, while native video support includes MOV, H.264, AVI, MJPEG, MPEG-4 and MP4.  You can also use it to display photos and media streamed from across your network.
No word on price, availability or anything else, but the fact that a lot of these specifications are shared with the Sony Dash suggests chumby might be developing it more as a platform for licensing out rather than an own-brand product.