Chromecast Audio and Chromecast 2 hands-on: smart media double-down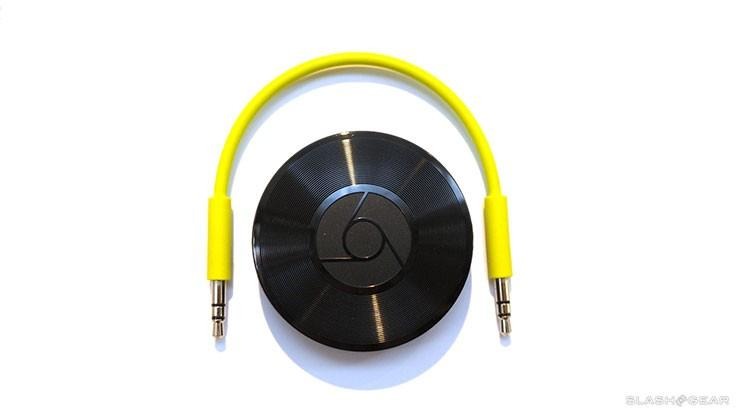 Today we see the tiny vinyl-record-looking device known as Chromecast Audio launch alongside the Chromecast 2nd-gen. Both devices are hockey-puck looking devices, both made of strong plastic and designed to be out-of-the way – but look good if they happen to be spotted. While the original Chromecast was a dongle attached immediately to an HDMI port, with no concern for the crowded plugs around it, this generation the Chromecast duo both have slightly more extended connections – they know they're not the only devices sticking out of your TV or your speaker system.
This second-generation Chromecast comes in three colors – black, lemonade, and coral. They're bright. Unless you get black, which we must assume most people will do, as the device is mean to be out of the way in most cases. As it was with the first Chromecast, you'll still need to plug the side opposite the HDMI cable into a power source via a power cable included in the box. You'll also get a power adapter in the box if your TV doesn't have USB power ports built in.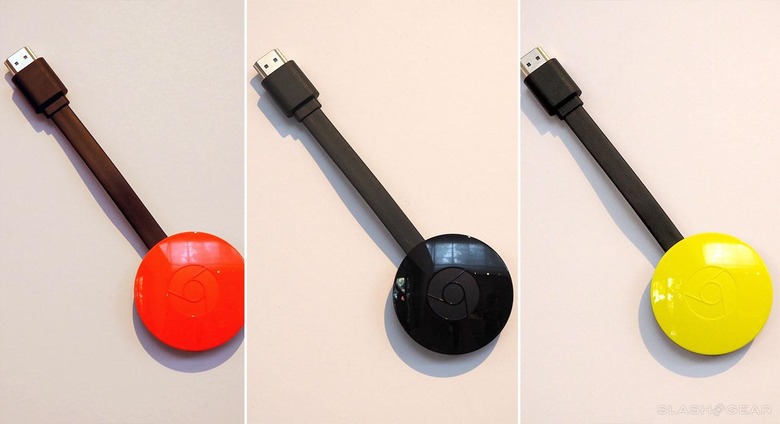 Chromecast Audio looks ever-so-slightly different from the Chromecast, coming with a set of grooves at its topside as a nod to a classic vinyl record aesthetic. Instead of connecting with HDMI, the Chromecast Audio connects with a 3.4mm aux audio jack. Google suggests you'll be able to use standard aux jacks (3.5mm) as well as RCA and optical inputs.
Each Chromecast Audio also has its own power cord and adapter for your wall socket. Chromecast Audio comes in any color you like, just so long as it's black.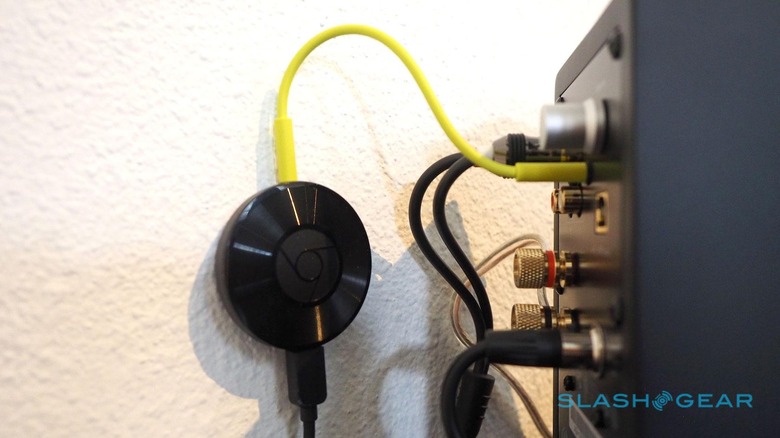 While we'd love to tell you the 2.4/5GHz WiFi support works exceedingly well, we're not about to test the speeds at a special event like the one we're at today with Google. Too many signals flying in all directions.
Despite that, we can say that it APPEARS as though these Chromecast devices are moving at a speed faster than their predecessors.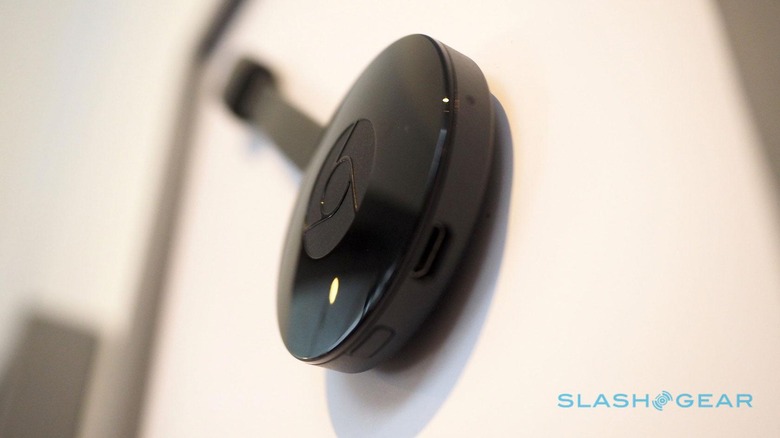 Both the Chromecast 2nd-gen and the Chromecast Audio will cost you $35 USD, each, and will be available from a collection of retailers very soon. Chromecast 2nd-gen and Chromecast Audio are available from the Google Store online starting today.
[gallerybanner p=407083]