Chromebook11 LTE later in 2014 HP confirms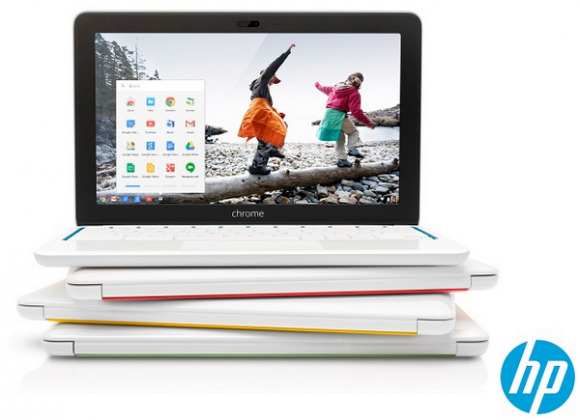 Following some leaks, HP has unveiled its new Chrome OS device, the HP Chromebook11. With the device comes a splash of color featuring accents along the bottom half of the inside and outside of the otherwise shiny white device. Along with the specs that we covered in detail earlier today, the Chromebook11 will also be available with LTE, with that particular model launching later this year.
The information comes from HP, which reported that it "is expected" the model will be available later this year, giving the impression it could end up launching later than expected. No solid date was given for when the model will hit shelves, but the maker says the LTE support will be "coming soon through Verizon for an additional fee, for a dynamic mobile Internet experience."
Obviously, the addition of LTE support will give the already mobile-centric device an extra element of attractiveness for those who need to work while away from their network, eliminating the need to tether a smartphone or other device. Other information relevant to the model — such as pricing — is also absent at the moment, but should surface soon given the short wait left before the model becomes available.
Aside from the LTE support, the Chromebook11 will be the first Chromebook with an IPS display, offering a resolution of 1366 x 768. Under the hood, buyers will find a Samsung Exynos 5250 SoC alongside Intel HD Graphics and 2GB of RAM. There are a couple USB 2.0 ports, a 3.5mm headphone jack, and slimport video-out. Video chatting is possible via a VGA resolution webcam, and other connectivity includes Bluetooth 4.0, 802.11 a/b/g/n WiFi, and optional 3G.
Priced at $279.99 USD.
SOURCE: HP