Chrome Remote Desktop out of beta, has new features

Last year, Google launched its Chrome Remote Desktop in beta. This app allows users to remote access their own computers while away, and to access other computers running Chrome with the remote desktop extension. Google announced Monday that the application is now out of beta, and that it includes some new features.
As the announcement touts, "from adjusting printer settings on your mom's computer to finding a lost file on your dad's laptop," Chrome Remote Desktop simplifies the task of hopping on someone's machine (or your own) and getting stuff done. The new features include real time audio for Windows users, and the ability to copy and paste between local and remote machines. Says Google, more features are in the pipeline, and will be announced as they become available.
Getting started with Chrome Remote Desktop is simple enough that, should you be unfortunate enough to have to play tech support for someone, walking them through the steps on setting up the app should be relatively frustration-free. After downloading the extension, you'll be prompted to choose your Google account from a list if you have more than one. Once you've selected the account, you'll be presented with a list of requested permissions, which includes permission to view your email address, your Chrome Remote Desktop computers, and to view and send chat messages, as well as permission to perform all three actions when you're not actually using the app.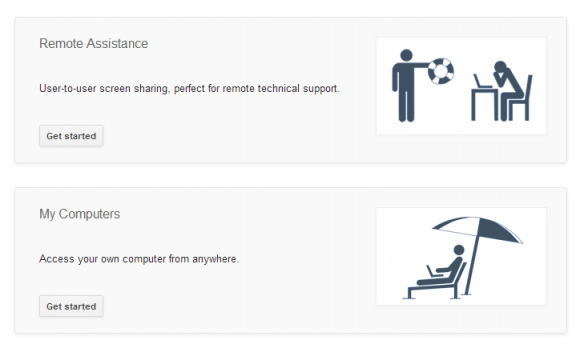 After clicking the "Allow Access" button, you'll be presented with two options: connect with a different computer, or set up a connection with your own. Under "Remote Assistance," you can either share your computer with someone else by clicking "Share," or you can access another computer by clicking "Access." In order to access your own computer, you'll be prompted to click "Enable Remote Connection," and then set up a 6-digital PIN.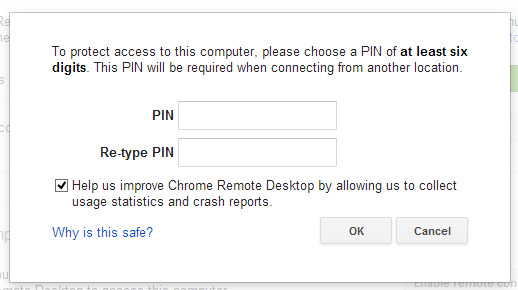 Over all, using Chrome Remote Desktop proved to be fast and simple. Google touts it as a useful tool for those using Chromebooks, allowing users to remote desktop from the Chromebook into a laptop or desktop computer to access files while on the go. You can check out our review of the Samsung Series 3 Chromebook here.
[via Google Chrome Blog]