Chris' Sunday MacBook Pro Roundup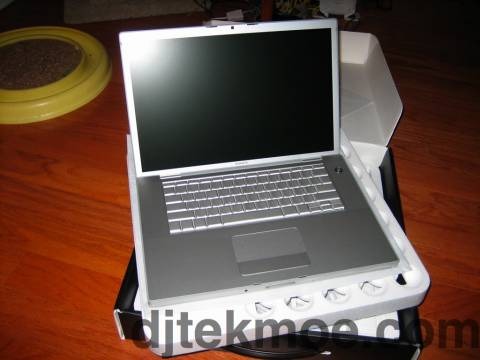 Hello chiddles, I know you've all been chomping at the bit for Stevey-boy's new MacBook Pro range to sweep through and cleanse you of your misery with the effectiveness of an LSD enema, so here's a quick round-up of what glossy Apple loveliness is now on offer...
With prices ranging from $1,999 upwards, your basic spec gets you a 2.16GHz Intel Core 2 Duo processor, 15-inch 1440x900 pixel display, 1Gb and 120Gb of RAM and HDD respectively, 6x double-layer SuperDrive and a 128mb ATI Mobility Radeon X1600 graphics chip.  Since you're unlikely to be satisfied with that, Apple offers the same 2.33GHz processor that comes as standard on the 17-inch model as an upgrade for the 15-inch.

The 17-incher has that 2.33GHz Core 2 Duo, an indecently gorgeous 1680x1050 display, 2Gb of RAM and 160Gb, 5400rpm hard-drive and 8x double-layer SuperDrive, and bumps up the graphics memory to 256mb, costing you $2,799 for the privilege.  Optional upgrades include topping out at 3Gb of RAM (for a mere $575 more), a 200Gb, 4200rpm hard-drive (for $100) and a no-cost choice between glossy and non-glossy screens.
Causing some interest in networking-types is the discovery that Apple are using a pre-ratification 802.11n wireless chipset, the Atheros AR5008, although OS X locks it down to the slower 'g' standard.   
Happily, the first user reviews are reporting no more mooing, whining, excessive fan noise and even a quieter SuperDrive than previous models, which should please anyone suffering from excess Mac-noise.  CPU temperature appears to be averaging out at 120 degrees (I'm assuming that's not Centigrade), meaning they're in fact running cooler than the single-core models did.  Impressive stuff!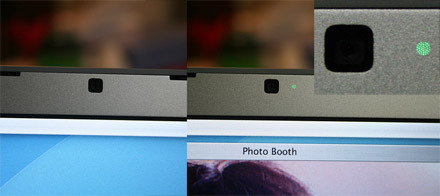 The useful iSight camera is still there at the top edge of the monitor bezel, but the indicator is now discretely embedded within the case so as to be only visible when illuminated.  Details like that matter, and it's good to see that Apple aren't resting on their laurels.  Still, the only other case difference is the new Firewire 800 port. 
For those of you at the cutting edge of hard-drive technology, you'll be interested to know that the 120Gb drive option (a Fujitsu MHW2120BH) uses Longitudinal Magnetic Recording, while the 160Gb drive uses new Perpendicular Magnetic Recording, which can apparently squash information closer together so as to make read-speeds faster.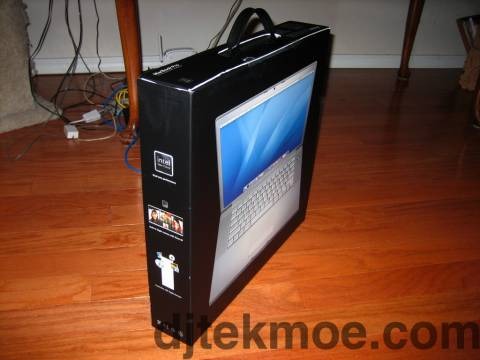 All-important, the fabled Apple packaging is still gorgeous and makes the unboxing a real ceremony – one already documented by tekmoe, here.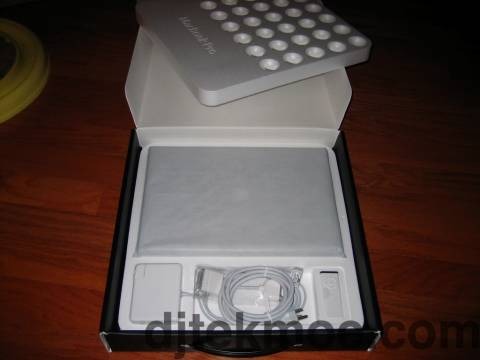 In the box, aside from the MacBook Pro itself, you get an 85W MagSafe Power Adapter, AC wall plug, and power cord, Lithium-polymer battery, Apple Remote, DVI to VGA adapter, install/restore DVDs and both printed and electronic documentation (thank the Lord for that!)  It's available to order now.  Go on, you know you want one...
Product Page [Apple]