China Unicom sell just 5,000 iPhones in opening weekend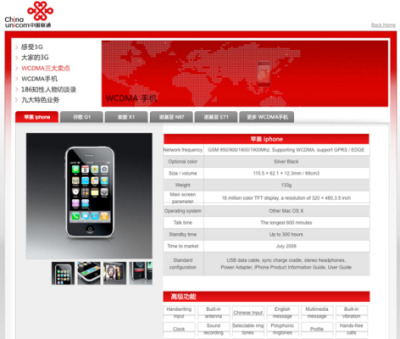 While the competition for iPhone carriers is hotting up in Europe, the smartphone has only just gone on sale in China.  Unfortunately, sales success hasn't followed the Apple device over to China Unicom's new 3G network; only 5,000 iPhone handsets were sold in China over the first weekend, according to the carrier, despite over a million new subscribers to that network in the same period.
The sales performance – which China Unicom are saying they're "satisfied" with – has been partially blamed on some absent features in the iPhone officially on sale there.  It lacks WiFi support, production of this initial batch having been begun during a ban on the wireless networking technology by the Chinese government, though as that ban has now been lifted China Unicom claim their next batch of smartphones will have WiFi intact.  Another factor is the proliferation of gray-market iPhones (and iPhone clones) already flooding the country, cheaper than the China Unicom unit and with WiFi intact.
[via iPhoneBuzz]