China Unicom clinch iPhone for Q4 2009 launch [Updated]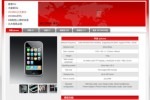 We're hearing that China Unicom and Apple have reached an agreement to sell the iPhone in China, with the carrier claiming to have signed a three-year exclusivity agreement on the coveted handset.  The announcement follows many months of rumor about which carrier Apple would sign a deal with in China.
"On 28 August, the Company and Apple reached a three-year agreement for the Company to sell iPhone in China. The initial launch is expected to be in the fourth calendar quarter of 2009. This will provide users with brand new communication and information experience." China Unicom
The carrier is expected to begin shipments of the iPhone come Q4 2009.  So far no other details have been made public, so we're still unsure what sort of connectivity the handset will have, nor how much the smartphone may cost.
Product sheets shown back in March on China Unicom's site, however, indicated that the handset would run on the new 3G/WCDMA network.  This new network is being trialled in China by the carrier right now, after they won the WCDMA license back at the start of the year.  We'll add more detail as we have it.
Update: According to the WSJ, Apple have confirmed the deal but declined to give any details; however China Unicom themselves have said that two versions of the third-generation iPhone will be on offer.  It's unclear whether they are referring to the storage capacity of the two iPhone 3GS handsets currently on sale in various locations, 16GB and 32GB, or other differentiating factors; neither have they commented on whether WiFi will be disabled so as to comply with Chinese regulations.