China mobile market proves Apple and Samsung don't always win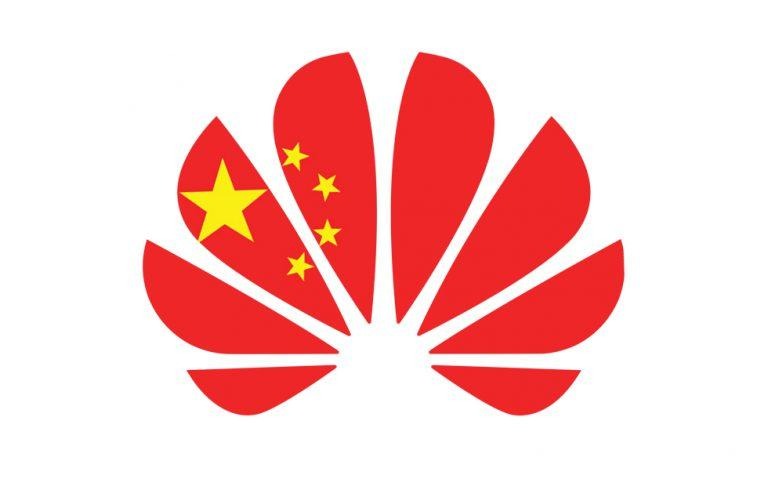 Apple and Samsung are not counted amongst the top 5 brands in the smartphone market in China in the first quarter of 2018. This might come as a shock to Samsung Galaxy smartphone and iPhone users in the United States, where Samsung and Apple all but dominate the world of mobile phones. In China, two major moves happened in the last several months. One of them was Apple's move from 4th place in overall sales in mobile phones to 5th – the other was a major shipment fall for the market as a whole.
This past quarter was the first since Q1 of 2014 that China's smartphone shipment numbers fell below 100 million. It may be that we've reached the high water mark for new users. It might just be time for smartphone companies to re-adjust themselves to handle the next generation of users: those that've already owned at least one smartphone in their lives.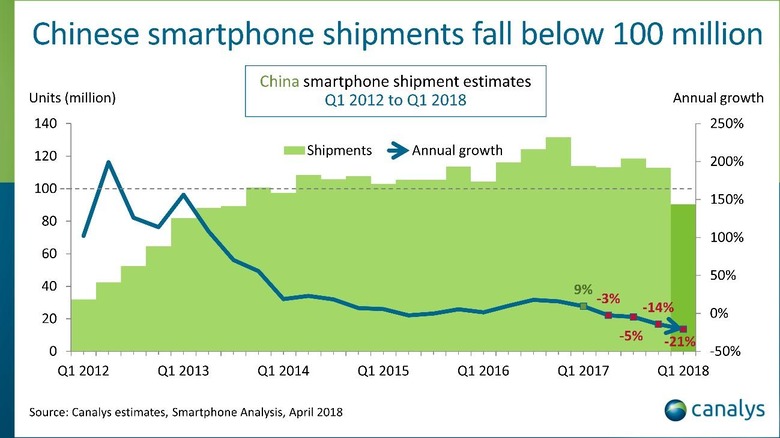 Information from Canalys suggests that annual growth in China for smartphone shipments grew to 200% back in the first quarter of 2012, and hasn't really recovered since then. At this point, the most recent report has the Chinese smartphone market's shipments growth in the negatives – and it's been huddling around zero since 2014.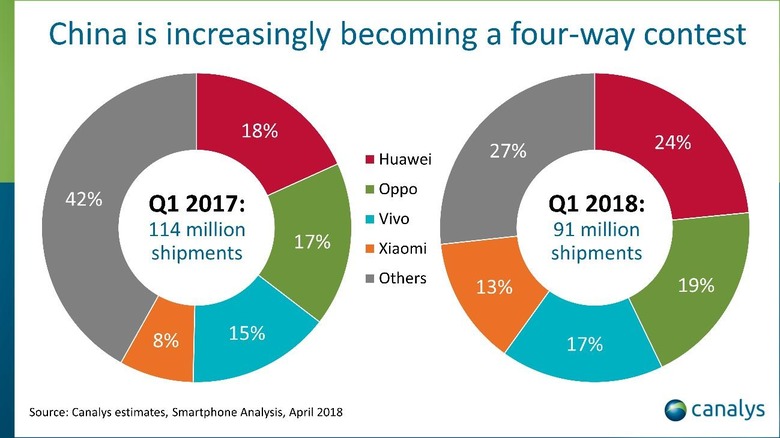 In the fourth quarter of 2017, Apple was in 4th place amongst all smartphone shipments in China. As of this most recent quarter in 2018, Apple moved to 5th and Xiaomi took 4th. According to Canalys, "Xiaomi was the only company to buck the trend, growing shipments by 37% to 12 million units, and overtaking Apple to take fourth place."
Samsung isn't in the top 5, believe it or not. Where Samsung commands the Android-running mobile device market in most other countries in the world, here – not so much. It is Huawei, Oppo, Vivo, and Xiaomi that run the show in China. Have a peek at the timeline below to see a few other points Huawei's been dealing with as of late. It's not all green grass on the other side, of that you can be sure.