Chevy unveils custom Gen Six Camaros and Copo Camaro at SEMA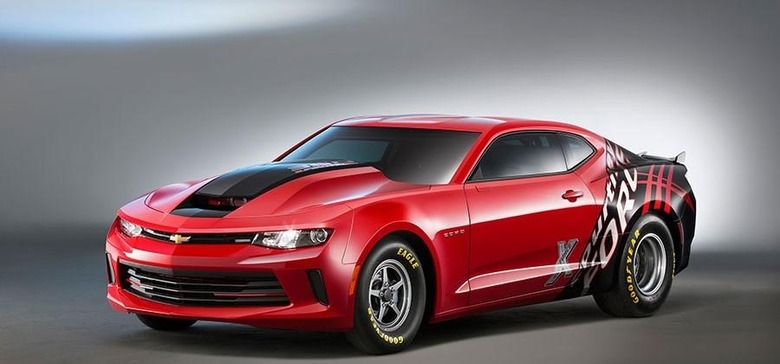 Chevrolet has rolled out some very cool sixth generation Camaros at SEMA that highlight the new car and some of the performance parts Chevy offers for the cars. Perhaps the biggest standout in the booth is the sixth gen Camaro called the Camaro Krypton concept. This car is covered in electroluminescent Krypton Green paint and has illuminated bowties that cascade down the sides at the flip of a switch.
Chevy also shows off the Camaro Performance concept with lowered suspension and performance upgrades. The Hyper concept is a Blue Camaro LT with visual upgrades. Chevy also has the Camaro Black concept with a black exterior, black wheels, and lowered suspension. These concepts highlight aftermarket parts that Chevy sells.
One of the coolest things Chevy has at SEMA 2015 is the new gen six Copo Camaro made for drag racing. The show car was created with assistance from NHRA Camaro funny car driver Courtney Force. Chevy plans to build 69 Copo Camaro racecars for 2016.
The drag racer is designed to run NHRA Stock and Super Stock Eliminator classes. The new Copo Camaro is 28% more rigid and 133 pounds lighter than the previous version. Under the hood is a concept 350 racing engine with a Whipple 2.9L supercharger. Wheelie bars and a parachute make the car race ready along with a NHRA certified roll cage. Three engine options are offered with a supercharged 350, naturally aspirated 427ci engine, and a LT based 376 engine.