Chevrolet Volt safety investigation yields more battery pack fires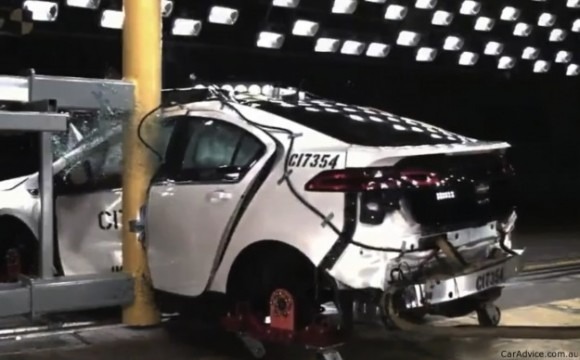 The Chevrolet Volt is an interesting car that GM touted as an extended range electric vehicle that has been under investigation recently after one Volt caught on fire. The first Volt to catch fire happened in the parking lot of a US crash test facility. That Volt caught fire three weeks after a crash test and the fire was caused by a ruptured battery pack.
The fire sparked an investigation into the Volt and other EVs made by major automakers. So far, the investigation into the battery packs of the Volt has required three more Volt vehicles be subjected to crash testing. The NHSTA crash testing intentionally damaged the battery packs by rupturing the cooling line.
In the first test, there was no fire, but a temporary temperature increase was noted the day after the accident. The second test battery pack was monitored and caught fire 7-days after the accident. The third vehicle crash tested began to spark and smoke within hours of the test. All of the test vehicles were subjected to an impact of a narrow vertical object and then rotated to simulate the vehicle hitting a pole and rolling over. The investigation is ongoing. The first Volts were delivered roughly a year ago to dealers.
[via CarAdvice]