Chevrolet Volt battery upgrade promises less fiery crashes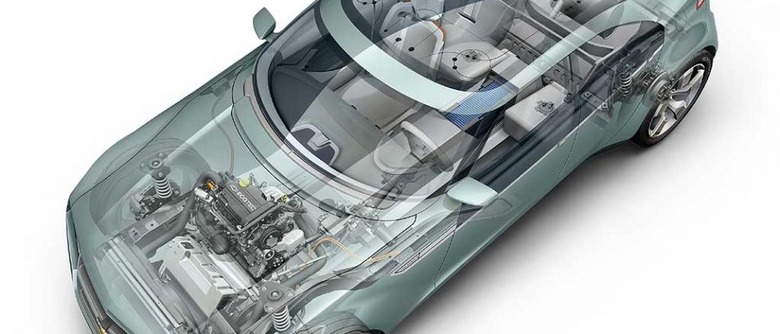 After federal safety regulators voiced several concerns over the hybrid vehicle Chevrolet Volt's battery, the folks at General Motors have taken action with both a steel structure and a cooling system to keep the battery from being in danger of catching fire after a crash. Of course those with eyes on the vehicle should know that it would've taking quite a severe crash to start the battery on fire in the first place, but Chevy isn't about to let regulators tell the public that their car isn't all the way safe. The investigation has been going on since November of 2011 and Chevrolet is "optimistic" these most recent changes should placate the feds.
The investigation on the safety of the battery in the Volt remains open at the moment, but the National Highway Traffic Safety Administration does have a statement up on their website that notes the changes "should address the issue." Those owners of the Volt right this moment should know that what they've done here is to create a set of changes that, to you, would be voluntary "enhancements" that you'd not necessarily have to come in and make, but that you certainly could if you wanted to.
Currently there is no recall in place on the battery nor on the car itself, and as Mary Barra, General Motors' senior vice president of global product development, said:
"We are choosing to go the extra mile to ensure our customers' peace of mind. [These changes will make the car] even safer, because the Volt is safe." – Barra
Crash tests with the new system in line have yielded positive results, these including no intrusion of the battery and no coolant leakage, two concerns the commission had in the investigation thus far:
"The results of that crash test showed no intrusion into the vehicle's battery compartment, and no coolant leakage was apparent. The preliminary results of the crash test indicate the remedy proposed by General Motors today should address the issue of battery intrusion." – National Highway Traffic Safety Administration
So take heart, owners, you'll more than likely be able to get this physical upgrade for free once it's active, and those of you who plan on owning the vehicle in the future, likely this safety addition will be in place.
[via NYTimes]