Chevrolet Colorado ZR2 concept showcased at LA Auto Show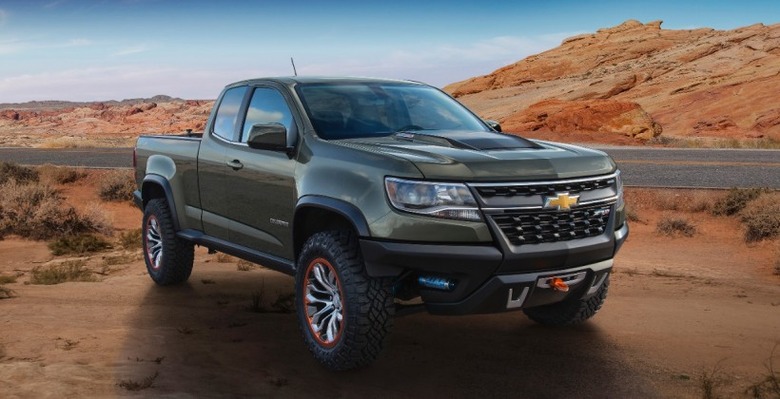 Chevrolet has taken the wraps off a new concept truck at the 2014 Los Angeles Auto Show, showcasing its Colorado ZR2 concept as an example of what could be for the midsize model's off-roading future. Chevy has based its concept on the ZR2 production model, as well as Colorado Z71's offerings, and included the new 2.8-liter Duramax diesel engine for good measure. That engine is slated to arrive in the auto maker's Colorado models in 2015. The concept brings with it elements designed specifically for going off the road, including a higher ground clearance and skid plates.
With the ZR2 concept, Chevrolet has incorporated larger approach and departure angles over the Z71 production model, with both 30.7 and 22.7-degrees (the Z71 features 25 and 21-degree angles). To get these angles, the auto maker added new fascias designed for off-roading that decrease the rear and front overhang "drastically". The front fascia harbor an integrated winch, and there are also some aluminum tow hooks that flip outward.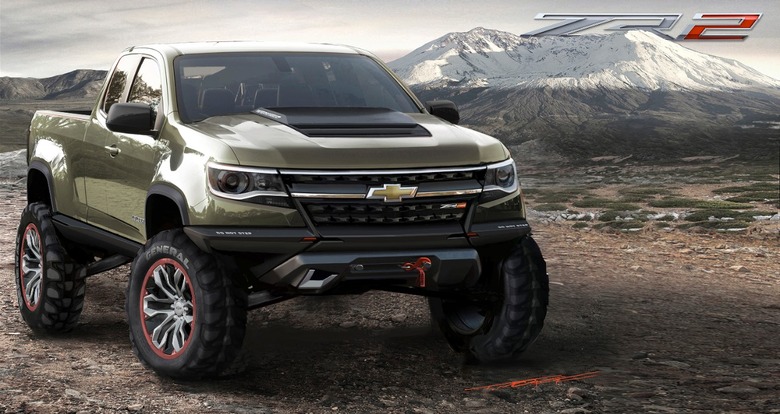 A 2-inch lift is in place to increase the concept's ground clearance, and stability has received a boost through the inclusion of a wider track. Suspension likewise has seen some improvements with the inclusion of King mono-tube coil-over shock absorbers, remote-mounted fluid reservoirs, and new front control arms. Joining these are rear and front differentials with electronic locking.
As far as design goes, Chevrolet elected to use a spray-in protective bed liner, the same used with the production models, as well as a spare tire and wheel assembly mounted with a quick release handle. The headlamp housings have been blacked out, the hood style was inspired in part by the Duramax-toting Silverado model, and there's a new grille design.
SOURCE: Chevrolet