Chevrolet Boost Volt Launch Markets: Texas, New York, New Jersey & Connecticut Added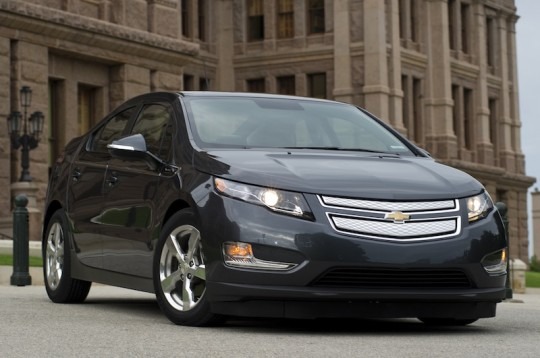 The number of people able to get their hands on Chevrolet's electric Volt car has increased, with the company announcing that it would be adding Texas, New York, New Jersey and Connecticut to the original line-up of test markets (California, Michigan and Washington D.C.).  Austin and NYC will start getting Volt cars – which can drive for up to 40 miles solely on electric power, then flip to an engine-generator that promises a further 300 miles – near the end of 2010, with a broader roll-out at the start of next year.
Chevrolet are painting the expansion as indication that the Volt isn't just suited to fair weather, city commuting, and that it will be able to withstand the baking Austin summers as well as the icy Manhattan winters.  Production of the car begins later this year, though pricing is yet to be confirmed; last month the company confirmed it would be outfitting 4,400 new owners with home recharging stations, that could provide free 240v power to rejuice their cars.
Press Release:
Chevrolet Volt Adds Four States To Launch

Texas, New York, New Jersey, and Connecticut join California, Michigan, and Washington, D.C.

Chevrolet Volt can handle a full range of climates and driving conditions

AUSTIN – Chevrolet is adding Texas, New York, New Jersey, and Connecticut to the launch markets for the Volt, Ed Whitacre, General Motors chairman and CEO, announced today. Whitacre said the company is expanding the initial launch of the groundbreaking electric vehicle in response to intense interest in the Volt from customers across the country.

Today's announcement brings the initial Volt retail markets to seven, including California, Michigan, and Washington, D.C. The retail launch in Texas and New York will begin with Austin and New York City in late 2010. The balance of Texas and New York, as well as New Jersey and Connecticut, are scheduled to begin receiving Volts in early 2011.

"We can add markets as diverse as Texas and New York because the Chevrolet Volt can handle both urban commuting and longer trips, in Austin summers and Manhattan winters," Whitacre said. "The Volt can be your primary vehicle, giving you the freedom to drive gas-free without the stress of planning every trip around the battery's charge level."

The Volt is the only electric vehicle that can operate under a full range of climates and driving conditions without limitations or driver concern of being stranded by a depleted battery.

"Chevrolet is extending the Volt launch to additional states because of strong customer interest and our confidence in all aspects of the vehicle and battery," said Tony DiSalle, Chevrolet Volt marketing director.

The Chevrolet Volt is capable of about 340 miles total driving range, with electricity driving the car at all times. For trips as long as 40 miles, the Volt gets its power solely from electricity stored in its 16-kWh lithium-ion battery. When the Volt's battery runs low, an engine-generator seamlessly engages to extend the driving range to about 300 miles on a full tank of gas.

According to a U.S. Department of Transportation survey, the average driver in America commutes less than 40 miles per day, meaning Chevrolet Volt owners may never use gasoline or produce tailpipe emissions in everyday driving.

A portable 120-volt vehicle charge cord that can recharge the Volt using a standard residential outlet comes standard with every car. Volt's intelligent charging technology enables the Volt to be charged from a standard 120-volt outlet in about nine to 10 hours, or from a standard 240-volt outlet in about three to four hours. The first buyers of the Volt also may be eligible for one of 4,400 free 240-volt home charging stations from ECOtality, Inc. or Coulomb Technologies, under a program administered by the U.S. Department of Energy and funded by the American Recovery and Reinvestment Act.

Whitacre also announced that Chevrolet will add five Texas electric utilities and five Northeast utilities to a Department of Energy development and demonstration program that provides Volts and charging stations to key utilities. The program allows the utilities to study charging station installation process, vehicle charging, and customer feedback. The Texas utilities include: Austin Energy, CenterPoint Energy, CPS Energy, Oncor, and American Electric Power. In the Northeast, Chevrolet is partnering with Con Edison, New York Power Authority, Northeast Utilities, National Grid, and Public Service Electric and Gas.

Volt production begins late this year at GM's Detroit-Hamtramck facility. Pricing has not been announced.