Chevrolet Bolt EV tipped to take on Tesla Model 3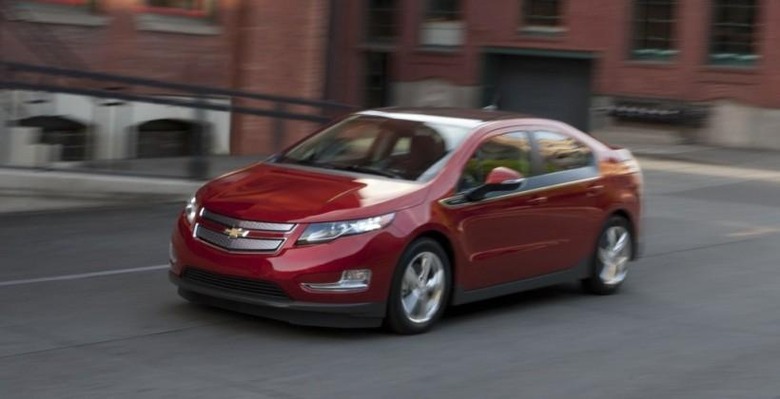 Chevrolet is set to reveal a second hybrid EV, the Chevrolet Bolt, in concept form at the Detroit Auto Show on Monday, insiders claims, as a pre-emptive strike against the upcoming cheaper Tesla. The Bolt – its name a nod to the existing Volt, which itself will be updated for the 2016 model year at Detroit – will reportedly cost around $30,000 and be able to run around 200 miles on a charge. Like the Volt, it will not only support being plugged-in to replenish the batteries, but have a range-extending gasoline engine onboard.
Chevy intends to show the car off in concept form, sources tell the WSJ, ahead of a launch by 2017.
The goal is an early counter to Tesla's upcoming Model 3 (aka the "Model III"), widely dubbed the "affordable Tesla." It, too, is tipped to have a roughly $30k price tag and a range of around 200 miles on a single charge.
Unlike GM's strategy with its Chevrolet and Cadillac EVs, Tesla's cars lack any sort of onboard power generation system for range-extension. Instead, Tesla has invested into a growing network of Supercharger high-speed recharging points, which could feasibly allow a driver of the current Model S car to travel coast to coast.
For Chevrolet, the Bolt is an opportunity to further push EVs into the mass-market, as well as spread them more comprehensively abroad. The company supposedly has plans to launch the smaller EV globally, with China a particular target.
Aesthetics of the new car are unclear, though something in line with the aerodynamically-led Volt seems likely. Tesla is yet to reveal the appearance of its Model 3, though rumors point to a smaller version of the existing Model S.
While the Volt has a sticker price of around $35,000, tax credits in the US can bring that down to the mid-$20k region.
SlashGear will be in Detroit to bring back all the news, so keep an eye on our Cars Hub for details from the show.
SOURCE WSJ