ChefStack Automatic Pancake Machine: Kitchen Heaven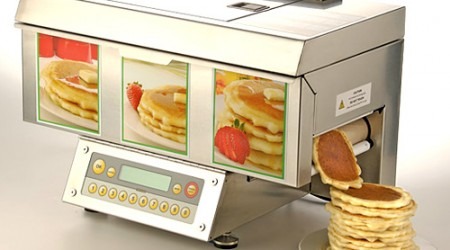 As someone who was banned from even considering bringing an automatic donut machine into the kitchen, you can't begin to imagine how impressed I am with the ChefStack automatic pancake machine.  Capable of producing 200 pancakes per hour with minimal human intervention, the ChefStack works from pre-filled bags of pancake batter fitted with special nozzles.
While that does mean you can't really use your grandmother's favorite pancake recipe, it also reduces clean-up issues and – since the bags can sit for a year on an unrefrigerated shelf without spoiling – adds convenience.  The unit is around the size of a microwave and consists of two teflon-coated rollers which shuttle the tender, fledgeling pancakes from nozzle to plate.
Those pancakes, incidentally, are 97-percent fat free and contain less than 83 calories apiece.  Unfortunately you're looking at $3,500 for the machine itself, which thankfully for those I share my kitchen with puts it well out of my reach.
[via OhGizmo!]