Checking Out the Samsung MD23 Three Screen LCD Monitor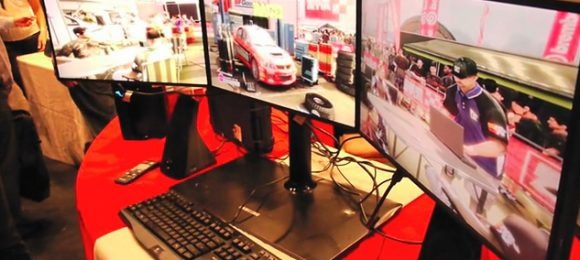 Behold the Samsung MD23 Three Screen LCD Monitor, aka MD230X3. You're about to see this beast showcased tethered with an ATI video card and in the three monitor configuration showcasing EyeFinity (not sure which version) format. What Eyefinity format is is a driver format through ATI Catalyst that allows your computer to work with a three-screen monitor setup. Wait, how big is that, you ask? 5760 x 1080 resolution. As Vince says – "monstrous."
You can do a three-screen configuration OR a SIX-screen configuration if you wish, the six screen configuration giving you 5760 x 2160 resolution. That's one big gigantic freaking monitor setup. And you can buy it in either three or six screen configurations. That's absolute madness. What kind of person would be able to use such a gigantic setup? You? What would you do with it? Take a look at the video of Vince checking the situation out at PEPCOM.
[VMS 5ed6e6837a3802f0d159]