Cheap ARM-based MIDs threatening Atom claim retailers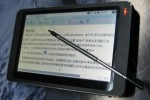 ARM-based mobile internet devices (MIDs) could soon be presenting more of a challenge to their Intel Atom-based rivals, if newly-emerging trends in China continue.  According to Chinese retailers, ARM-based MIDs  such as the SmartQ 5 - priced at roughly one quarter of the cost of a branded Atom MID are prompting manufacturers to move away from Intel's chipset.
In China, the SmartQ 5 MID is priced at the equivalent of $130, while the Gigabyte M528 MID (which uses Intel's Z500 Atom processor) comes in at $531.  The rise in white-box devices also presents a significant challenge to name-brand ARM devices; the Nokia N810, for example, is priced at the equivalent of $442.
We've already heard from one importer offering the SmartQ 5 MID for $149 in the US; it's likely that the market for such devices will only increase as more Chinese manufacturers begin to adopt the ARM chipsets.  Ironically this could be just the turning tide for mobile internet devices that Intel was hoping for – problem is, it's not their CPU that's at the core of it.