Chart shows which smartphones have the most screen space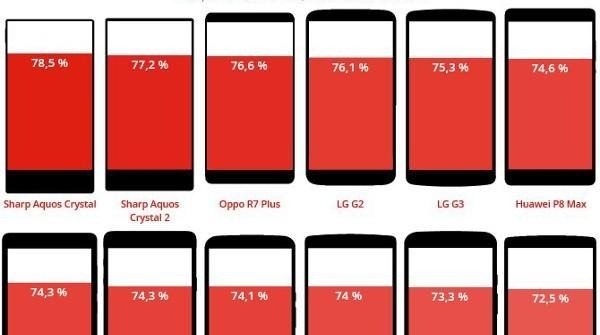 There was a time when a larger screen meant an equally larger body, but of late, manufacturer's have been trying to buck the trend by cutting out bezels and other tricks. Not all, however, are as successful as others, and not all new devices are better than their predecessors. Mobilsiden has compiled a list of smartphones and their so called "screen to body" ratios and helpfully put them into a handy infographic for easier perusal. And the revelations it holds are pretty amusing and even a bit perplexing.
The Sharp AQUOS Crystal, revealed in August last year, still holds the crown, staying true to its "edge to edge" boast and offering as much as 78.5 percent of its front face to the screen. Somewhat ironically, it successor actually fares a bit worse with only 77.2 percent. The OPPO R7 Plus, just unveiled last week, holds the third spot with 76.6 percent. Sadly, none of these three are available in the general market.
You'd think that the newer smartphones would have better scores, but no. It is 2013's LG G2 that actually has the highest percentage, at 76.1 percent, among all the top brands. It's successor, the LG G3, is just one step behind at 75.3 percent. And the latest LG G4? It's at 12th with 72.5 percent. And despite that fancy dual curved edges of the Galaxy S6 Edge, it's only at 14th place with 71.7 percent. Even worse is the Galaxy S6 at number 22 with its 70.6 percent ratio. It's interesting to observe that, aside from the Galaxy Note 4, LG's flagships have outranked Samsung's. Perhaps its really on to something with its rear button controls.
Perhaps more interesting is that Apple's smartphones are at the bottom. The iPhone 5s' entire front only has 60.9 percent of it dedicated to the screen. The iPhone 6 does a bit better at 65.3 percent and the larger iPhone 6 Plus is the best among the three at 67.9 percent. Apple must eally love those bezels.
This chart illustrates how much of our smartphones still sacrifice a lot of space to bezels, especially those that dedicated large areas to buttons and branding. That said, it's not always a bad thing. A smaller screen real estate paired with high resolution could still turn out to be better because of the higher pixel density. The chart does remind buyers not to take figures and spec sheets at face value and that bigger and newer doesn't always mean better.
SOURCE: Mobilsiden