CES 2009: Samsung BD-P4600, BD-P3600 & HT-BD8200 Blu-ray Players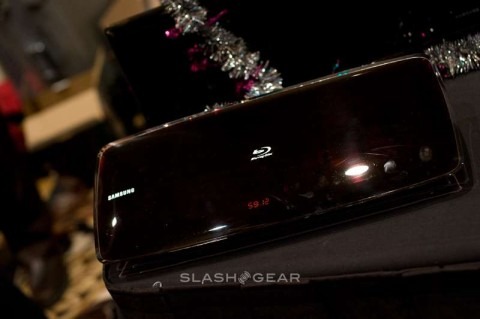 Samsung announced three new Blu-ray players at CES today, both wall-mountable with slot-loading drives and BD Live 2.0 compatibility.  The BD-P4600 is 1.5-inches thick and is Samsung's flagship player, capable of 1080p High Definition, content on demand and wireless networking with WiFi and Bluetooth. 
The BD-P4600 is capable of ejecting a disc in just 1 second, has 1GB of internal memory and two USB 2.0 ports.  It's also capable of DivX SD and HD playback, Pandora and Netflix streaming, and HD audio.
Meanwhile the BD-P3600 is a tabletop player, with similar connectivity and features.  Both players use a WiFi USB dongle.  Samsung also announced the HT-BD8200, a Blu-ray speakerbar with wireless connectivity, pseudo-5.1 surround sound and 1080p playback.  It comes with a wireless subwoofer and Bluetooth for viewing content from cellphones and other mobile devices.
Press Release:
SAMSUNG'S LATEST AWARD-WINNING BLU-RAY PLAYERS OPEN UP A NEW MULTIMEDIA EXPERIENCE PORTAL

BD-P4600 Delivers HD Entertainment for the Whole Family in Contemporary Style;

BD-P3600 Satisfies Home Theater Enthusiasts with Superior Sights and Sounds

LAS VEGAS, January 7, 2009 – Samsung Electronics America, Inc., a market leader

and award-winning innovator in consumer electronics, today unveiled the world's first

wall-mountable Blu-ray player, the BD-P4600, as well as the new standard for Blu-ray

performance and versatility, the BD-P3600. A 2009 CES "Best of Innovations" Award

Winner, the BD-P4600 unites a plethora of multimedia features in a svelte, first-in-class

package. The enthusiasts' choice, the BD-P3600 promises top-notch video playback,

comprehensive audio decoding, and unprecedented networking capabilities for an

immersive, theater-like experience. Both players set a new direction for the Blu-ray

category with wireless networking, access to video and music streaming services, such

as Netflix and Pandora, as well as sleek designs. Samsung's new Blu-ray players will

be on display at Booth #11033 during the International Consumer Electronics Show,

which will be held at the Las Vegas Convention Center, January 8 -11, 2009.

"Samsung is heralding a new direction for the Blu-ray industry with the BD-P4600 and

BD-P3600," said Reid Sullivan, vice president of Audio/Video and Digital Imaging

Marketing at Samsung Electronics America. "The BD-P4600 makes it easier than ever

to bring Blu-ray into the living room with its unique, wall-mountable design, while the

BD-P3600's comprehensive specs place it on the short list of even the most discerning

home theater consumers."

The BD-P4600 and BD-P3600 include BD Live™ (Profile 2.0) and Bonus View (Profile

1.1) support, Full HD 1080p Blu-ray playback with DVD upscaling, and total HD

soundtrack support. Standard CD playback, with support for JPEG photos and DivX

videos, ensure even more entertainment value with the BD-P4600 and BD-P3600.

A New Era of Functional Design

Samsung's newest Blu-ray players continue the trend of stylish and décor-friendly

electronics, with new versions of Samsung's groundbreaking Touch of Color™ (ToC™)

design and touch sensitive controls. The BD-P3600's traditional set-top form is just over

two inches tall, and comes encased in deep black with charcoal gray highlights curving

along the outer edges. The wall-mountable BD-P4600 is just 1.5 inches thin with a

piano black design infused with ruby highlights, and finished with clear, prism-like

edging. If wall-mounting is not an option, an integrated stand lets the BD-P4600 be

placed on a table at a 25 degree angle.

Cutting Wires Without Cutting Back on Entertainment

Both the BD-P4600 and BD-P3600 can wirelessly connect to the latest Blu-ray features

when the included 802.11b/g/n Wi-Fi dongle is connected to one of the players' two

USB 2.0 ports, or via the traditional wired Ethernet connection. The two players can also

instantly stream more than 12,000 movies and TV episodes from Netflix and Pandora

music services (subscriptions required), to deliver an ever-expanding library of

entertainment into the living room without having to leave the house. And with 1GB

internal flash memory, both players can access the latest BD Live™ and Bonus View

Blu-ray features out of the box, leaving the USB 2.0 ports for wireless networking and

memory expansion duties when needed.

Speedy Control and Upgradeability

Samsung's newest Blu-ray players improve traditional disc loading time to begin fast

playback and can eject a disc in a single second. The players' touch sensitive controls

Page 3 of 3

help to create a seamless experience that is pleasing to see, hear, and ultimately, use.

To keep consumers updated with the latest features and improvements, Samsungs BD-

P4600 and BD-P3600 also can easily access upgrades wirelessly via the included

802.11b/g/n Wi-Fi dongle, through the wired Ethernet connection, by connecting a USB

drive, or with a CD / DVD / BD.

Total Full HD 1080p Video and HD Soundtrack Support

Samsung's BD-P4600 and BD-P3600 promise Full HD 1080p playback of Blu-ray discs

and crisp upconversion of standard DVDs through the HDMI 1.3 connection. For a true,

Hollywood-quality experience, both players can internally decode the latest high-

resolution digital multichannel audio soundtracks, including Dolby Digital Plus™, Dolby

TrueHD™ and dts-HD HR / MA®. The BD-P3600 can also output any of the

soundtracks as a bitstream through its 7.1-Channel analog audio outputs, or as an

uncompressed PCM signal, for consumers desiring the best cinematic sound with an

older A/V receiver.