CES 2009: pureSilicon 1TB Nitro SSD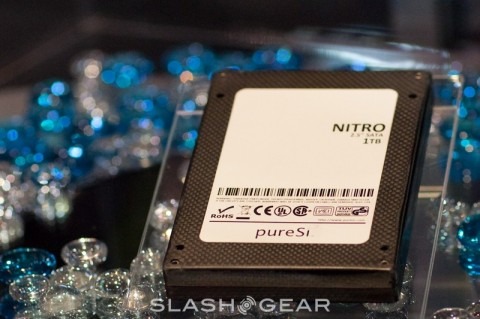 pureSilicon might not be a name you're currently all that familiar with, but expect to hear plenty more from this company in 2009.  They brought along a 1TB SSD, the Nitro, to CES last week; the highest-density solid-state drive available on the market today.  As well as high-capacity, the 1TB Nitro offers low power demands, 300MB/s SATA-II connectivity and 240MB/s sustained read rates.
In fact, four 1TB Nitro drives fit into the same space as a traditional 3.5-inch HDD, offering server builders new levels of capacity.   Active it consumes 4.0W; idle just 0.1W.  The sustained write speed is 215MB/s, and pureSilicon rate it for up to 2m hours of use.
Despite the reduced size, the Nitro is still too thick for standard notebooks and ultramobile devices, so we'll likely have to wait until the next generation version to see 1TB in our portable devices.  pureSilicon also has the Renegade series, which are ruggedized and meet MIL-STD-810F for things like shock, dust and temperature resistance.
Press Release:
pureSilicon Debuts World's First 1TB 2.5-Inch SSD — Most Compact SSD per GB

pureSilicon Inc. is demonstrating the highest-density SSD available today: the 1TB Nitro Series. This represents a major advance for the storage industry since it combines maximum density with high performance and low power demand. Four of these drives deliver 4TB in the same space as a standard 3.5-inch HDD, so server footprint requirements and energy consumption in data-intensive applications can be considerably reduced.

The 1TB Nitro SSD is the most compact SSD per gigabyte: 15.40GB per cubic centimeter in a 2.5-inch form-factor — at least three times greater than any other SSD on the market. This high density in a small form factor has been achieved through innovative engineering techniques coupled with advanced industrial design that yields an exceptionally thin enclosure.

This Nitro line of high-performance solid-state drives is designed for applications where data throughput and power consumption are paramount: server, networking, datacenter, supercomputing, and professional media. These applications require fast transfer speeds and involve the storage of massive amounts of data. pureSilicon has benchmarked these drives at speeds approaching the maximum bus speed of SATA II (300 MB/s).

Feature summary

– 1TB SSD in 2.5-inch form-factor (highest density ever at 2.5-inch)

– 300MB/s SATA II interface

– Industry-leading performance

– State-of-the-art industrial design

Specifications – Nitro Series SSD:

Capacities: 32GB, 64GB, 128GB, 256GB, 512GB, 1024GB

Performance

– Transfer rate: 300MB/sec

– Sustained read: 240MB/sec

– Sustained write: 215MB/sec

– Random read (IOPS 4K): 50,000

– Random write (IOPS 4K): 10,000

– Latency < 100 µsec

Reliability

– MTTF: 2.0 million hours Environmental

– Temperature (operating): 0°C to +70°C

– Temperature (non-operating): -45°C to +85°C

– Shock (operating): 1500G, duration 0.5ms, half sine wave

– Vibration (operating): 20G peak, 10~2,000Hz, x3 axis

Power

– Active: 4.8W typical

– Idle: 0.1W typical

Physical

– 2.5in form factor: 100.2mm x 69.85mm x 9.5mm

pureSilicon also offers FIPS-compliant, rugged SSD

Also on display on the pureSilicon booth is the recently announced Renegade Series Solid-State Drives (SSD), the first SSDs to integrate hardware-based encryption approved by the Federal Information Processing Standard (FIPS). The Renegade SSD is also compliant with MIL-STD-810F, a military standard that requires the SSD to sustain reliable operation during a series of rigorous tests that validate its ability to endure the extreme environments typically seen in industrial and military applications.

The pureSilicon Renegade SSD addresses the demands of the most challenging environments where heat, vibration, and humidity preclude the use of traditional hard disk drives or regular, 'consumer-grade' SSDs. A dedicated on-board cryptographic processor provides hardware-driven 256-bit AES encryption that delivers instantaneous encryption and decryption of data without degrading performance.

Green philosophy

pureSilicon is committed to energy efficiency and develops storage products that yield high performance per watt. Whether the goal is to increase productivity in a mobile environment or reduce energy costs in a data center, deploying pureSilicon SSDs will help achieve successful results. Legacy storage products such as hard disk drives are becoming less energy-efficient as manufacturers strive for higher performance; SSDs offer superior performance scalability while achieving significantly lower energy consumption.

Available in early 2009

pureSilicon has begun sampling its Renegade SSD units on a limited basis to select customers, with shipments expected to commence in the first quarter of 2009. The Nitro Series SSDs will be available in Q3 2009, pricing TBD. For more information about the pureSilicon Nitro or Renegade Series SSD or to order samples, please contact oem@puresi.com.

About pureSilicon Inc.

pureSilicon designs, manufactures, and markets non-volatile, solid-state storage devices based on Flash memory technologies. Headquartered in New Jersey, the company specializes in developing leading-edge Solid-State Drives (SSDs) that meet the demands of the most discriminating environments. pureSilicon offers an extensive line of Flash-based memory solutions specifically targeting original equipment manufacturers (OEMs) and original design manufacturers (ODMs). For more information visit http://www.puresi.com.