CES 2009: OQO Model 2+ UMPC Hands-On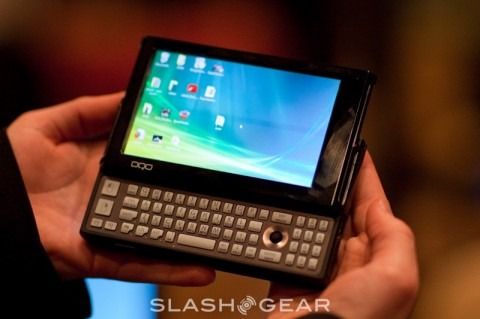 OQO's UMPCs have always been tempting devices thanks to their compact size and impressive build-quality, but the company can now add performance to their list of abilities.  The OQO Model 2+ marks a shift for the company to Intel's Atom range of mobile processors, in this case the 1.86GHz Z540, paired with 2GB of RAM and either a 120GB HDD or 60GB SSD.  Most impressive, perhaps, is the new OLED touchscreen – in fact the Model 2+ is the first such mobile computing device to have one – which, with the Atom chipset's hardware video decoding, produces some incredible picture quality.
Add to that global 3G capabilities thanks to Qualcomm's Gobi wireless chipset – with OQO again being the first to include it – that gives you 3G HSPA and EVDO connectivity and a neat $300 docking station with extra USB ports, ethernet and slot-loading optical drive, and you've got an interesting rival to the new Sony VAIO P.  Starting at $999, you're getting more for your money than you did with the last-gen Model 2 too. 
We're hoping to get our hands on a Model 2+ review unit very soon, and we're really excited about testing it out in the real-world.  On the show floor, the keyboard was small but usable, the display a good size for web browsing, media and simple typing, and while weighty the 2+ wasn't too heavy considering what's inside.