CES 2009: Nokia N97 hands-on: Facebook, widgets and Video Demo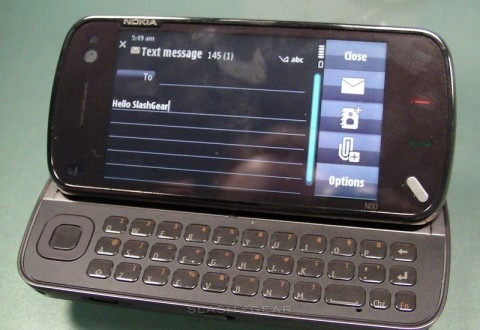 With all the furore over the Palm Pre this past week, many have forgotten that it will come up against another QWERTY-equipped, sliding touchscreen smartphone when it launches in the first half of 2009.  The Nokia N97 made a discrete showing at CES, bearing a newer (though still nowhere near final) software build than the version we last saw, and SlashGear sat down with the handset to find out some more details.  After the cut, we talk Facebook, widgets  and design decisions.
Nokia were clear that the device we've been seeing is nowhere near finalized.  Not only is the software still to be changed, but the physical design, including plastics colors and other detailing, isn't as it will be in-store.  One side-effect is that the N97 you see in this demo – and in fact any other video demo – is not running at the final speed, which in the eventual release will be "much faster"; nonetheless, we found the handset to be relatively quick to respond.
A purposefully finalized hardware decision, though, is the touchscreen technology.  While many would have liked to have seen Nokia use a capacitive panel, such as on the iPhone, the company claim the resistive screen was a conscious choice.  That's primarily for the range of input options resistive allows: gloved use, for instance, or handwriting recognition.  For the end-user, what it means is that you lose the zero-pressure control capacitive offers, but we didn't find the N97's touchscreen to be particularly difficult or unresponsive.
One seemingly must-have app on any new smartphone is Facebook access; Nokia couldn't discuss with us how much input Facebook themselves had made in developing their app, which is expected to be available at launch.  As with other software for the N97, it consists of two aspects: the main app, and a widget that can be embedded into the homescreen and that gives at-a-glance updates.  Nokia's Victor Brilon, senior manager of N-series technology collaboration, was keen to clarify that the homescreen widgets are not merely "tickers" that take you straight to the main program, but interactive in their own right.  It will take advantage of the always-on network connection to give real-time updates of status, comments and other details.
Multiple programs are expected to be available by the time the N97 launches, together with the ability for users to create their own.  These can range from simple widgets to full apps, although it was unclear exactly how complex the coding environment for that would be.  Nokia will be able to distribute software via their Ovi service; they're also pushing developers to consider network good-practice, so that battery life doesn't suffer due to over-use of the data connection.
The N97 is expected to first go on sale as an unlocked device, with Nokia suggesting US pricing in-line with a high-end current N-series handset such as the N96.  They couldn't discuss any possible carrier partnerships or subsidies.