CES 2009: LG NetCast on LCD & Plasma HDTVs for YouTube, Netflix & Yahoo!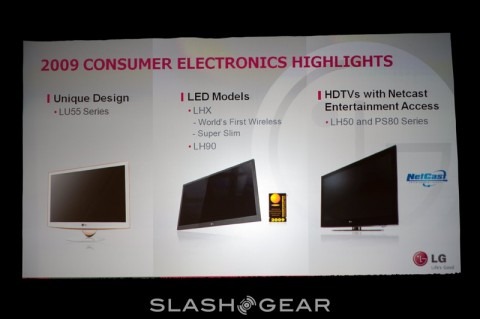 LG today announced their new NetCast Entertainment Access system that brings Yahoo!, Netflix and YouTube content directly to selected models in the company's HDTV range.  Both LCD and plasma TVs with the NetCast technology will be available, starting with the 47- and 42-inch LH50 LCD models and 60- and 50-inch PS80 plasma models.
NetCast does not require a computer; instead, the HDTV itself has an ethernet port and connects directly to a broadband connection (with or without a router).  Select functionality, however, is set up through a web interface – such as Netflix queueing, or organizing Flickr or Picasa slideshows – for later viewing on the sets. 
In addition, NetCast is DLNA compatible and supports streaming of JPEG images and MP3 audio files from networked computers.  Samsung recently announced a similar partnership with Yahoo!, bring the company's Widget Engine onto models in Samsung's HDTV range. 
Press Release:
LG ELECTRONICS LAUNCHES BROADBAND HDTVs WITH 'NETCAST™ ENTERTAINMENT ACCESS'

New Content Providers Yahoo!®, Netflix, YouTube Give Consumers Freedom to Access Streaming Movies, News, Weather, Photos and More Directly to the TV

LAS VEGAS, Jan. 7, 2009 – LG Electronics today announced two new HDTV series with NetCast™ Entertainment Access that offer instant streaming of movies, TV shows, video, and a Widget-based user experience via Ethernet connectivity directly to the television. Through new alliances with Yahoo!, Netflix, and YouTube™, consumers can instantly stream an almost endless catalogue of entertainment from viral videos and movies to photo sharing Web sites without the need of a separate PC*.

"LG's new NetCast Entertainment Access capability broadens the user experience to include not only entertainment content, but also up-to-the minute news, stock information, weather updates, photo management and more by simply using the TV's remote control," said Peter Reiner, senior vice president, marketing and strategy, LG Electronics USA. "With these and future content relationships, LG continues to break the mold with innovative technologies designed to enhance consumers' viewing experience."

LG's HDTVs with NetCast Entertainment Access (47- and 42-inch class* LH50 LCD models and 60- and 50-inch class* PS80 plasma models) and its full line of LCD and plasma products are on display this week at the 2009 International Consumer Electronics Show (CES) – Booth #8214, Central Hall, Las Vegas Convention Center. (See separate release for more information.)

Yahoo! Widget Engine: Content When You Want It, Where You Want It

The Yahoo! Widget Engine enables the discovery and enjoyment of a new class of interactive applications called TV Widgets. TV Widgets enable viewers to interact with popular Internet services and online media through applications specifically tailored to the needs of the television watcher such as up-to-the minute Yahoo! News, Weather and Finance.

Through Flickr®, Yahoo!'s online photo management and sharing application, consumers can enjoy their latest family and friend photos on the big screen. Accessible through a Yahoo! TV Widget, consumers can access this unique photo sharing site to run slideshows and view individual photos.

YouTube: Access to Millions of User-Generated Videos

As a leading online video community for people to discover, watch, and share originally created videos, YouTube allows consumers unlimited access to web based videos. Through LG's alliance with this prolific online video community, consumers can instantly stream millions of Web videos directly from the Internet for viewing on their television. Key benefits include:

• Unlimited access to millions of videos on topics such as current events, instructional videos for hobbies and interests, comedic and viral videos

• Easy Searching, thumbnail previews and multiple screen size viewing options

Netflix: Instant Streaming Directly Through the TV

LG's HDTVs with NetCast Entertainment Access will join the LG BD300 Network Blu-ray Disc Player as an industry first, providing the ability to stream movies instantly from Netflix, offering consumers a variety of ways to enjoy more than 12,000 choices of movies and TV episodes. Netflix members owning one of these devices pay as little as $8.99 for a monthly subscription for unlimited streaming and DVD rentals.

Instant streaming content from Netflix to the HDTV will rely on a broadband connection and Queue-based user interface. Netflix members will use the Netflix Web site to add movies and TV episodes to their individual instant Queues. Those choices will automatically be displayed on members' TVs and available to watch instantly through the HDTV. Once selected, movies will begin playing in as little as 30 seconds.

With the accompanying remote control, Netflix members will be able to browse and make selections right on the TV screen and also have the ability to read synopses and rate movies. In addition, they will have the option of fast-forwarding and rewinding the video stream.

PC Content Sharing

Users can also choose to incorporate the NetCast-equipped HDTV into a home network to access JPEG photos or MP3 music files stored on their home PC to create slide shows and listen to music on their big screen.

About LG Electronics USA

LG Electronics USA, Inc., based in Englewood Cliffs, N.J., is the North American subsidiary of LG Electronics, Inc., a global force and technology leader in consumer electronics, home appliances and mobile communications. In the United States, LG Electronics sells a range of stylish and innovative home entertainment products, mobile phones, home appliances and business solutions, all under LG's "Life's Good" marketing theme. For more information, please visit www.LGusa.com.

About LG Electronics, Inc.

LG Electronics, Inc. (KSE: 066570.KS) is a global leader and technology innovator in consumer electronics, home appliances and mobile communications, employing more than 82,000 people working in 114 operations including 82 subsidiaries around the world. With annual worldwide revenues exceeding $40 billion, LG Electronics comprises five business units: Home Entertainment, Home Appliance, Air Conditioning, Business Solutions and Mobile Communications. LG is one of the world's leading producers of mobile handsets, flat panel TVs, air conditioners, front-loading washing machines, optical storage products, DVD players and home theater systems. For more information, please visit www.lge.com.

About Yahoo!

Yahoo! Inc. (NASDAQ:YHOO) is a leading global Internet brand and one of the most trafficked Internet destinations worldwide. Yahoo! is focused on powering its communities of users, advertisers, publishers, and developers by creating indispensable experiences built on trust. Yahoo! is headquartered in Sunnyvale, California. For more information, visit pressroom.yahoo.com or the company's blog, Yodel Anecdotal.

For more information on Yahoo! Connected TV please visit http://connectedtv.yahoo.com