CES 2009: iRiver Mickey PMP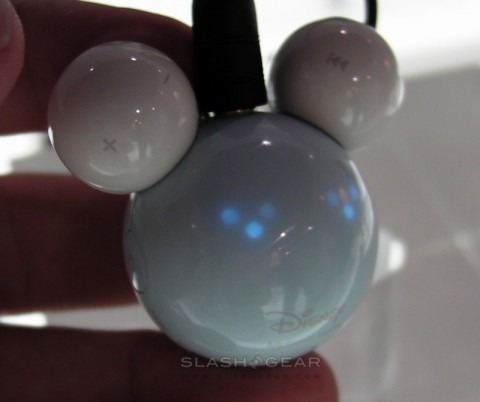 iRiver's Mickey PMP is something of a novelty compared to other mediaplayers from the company, but the iPod shuffle rival does manage to endear itself in-person.  Available in pink or sky-blue with 2GB of storage for your audio files, the Disney-branded MP3 player has LED eyes that indicate volume, playback and other status details, together with expressions.
The ears, meanwhile, are the controls.  The left adjusts volume, while the right skips tracks; power is controlled via a button on the side.  A mini-USB port both recharges the Mickey and is used for file transfers.
Compatible audio files include MP3, WMA and ASF, but you'll have to be a Windows user (2000, XP or Vista).  iRiver began shipping the PMP in mid-December in Japan, where it's apparently proving to be a hit with elderly buyers wearing it around their neck with the included lanyard, at around 8,980 yen ($98).