CES 2009: ASUS Shared Computing Concept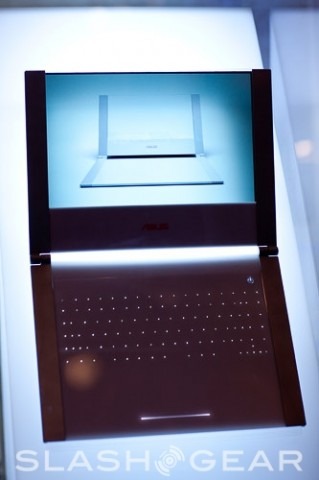 If the Eee Keyboard is a concept ASUS could pretty easily bring to market, their Shared Computing Concept is slightly more left-field.  Designed around an origami theme, the notebook has a quad-fold format whereby the screen and keyboard sections fold into – and cover – the hardware.  More interesting than the physical design, however, is the software; ASUS are really pushing the idea of collaborative working.
The software emphasizes shared experiences, either online or locally.  For instance the laptop can be folded flat for two people to work at, or two of the devices can be pushed back-to-back and automatically interfaced.  In one video demo, four people were shown collaborating on a presentation, sorting images and charts together while communicating through instant messaging.
As for actually using the concept device itself, it probably wouldn't be as slick as the GUI.  The keys are merely touch-sensitive backlit buttons, all zero-profile, and as such typing is unlikely to be too pleasant.  Still, this is more about ASUS' plans for future Eee PC software – perhaps a replacement to the Easy GUI – and with the growing prevalence of 3G-enabled always-connected notebooks, we're likely to see more emphasis on shared computing experiences.