CES 2008: XStreamHD Satellite 1080p media system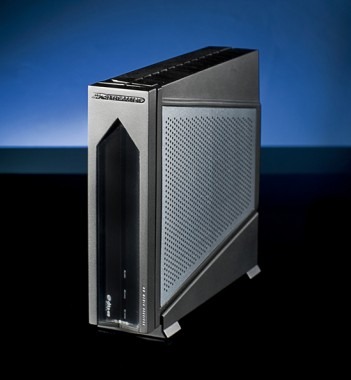 You might want to dismiss XStreamHD as "just another content provider" but the new satellite TV provider that specialises in HD content is doing its level best to make that, if not impossible, then at the very least ill-advised if you're at all interested in home entertainment.  Offering full 1080p HDTV and 7.1 channels of DTS-HD Master Audio, the system uses a central server (pictured after the cut) that can distribute movies, games, music, broadcast TV and internet content simultaneously to different receivers (pictured here) around the home; in fact, it can stream up to four different HD-quality videos simultaneously.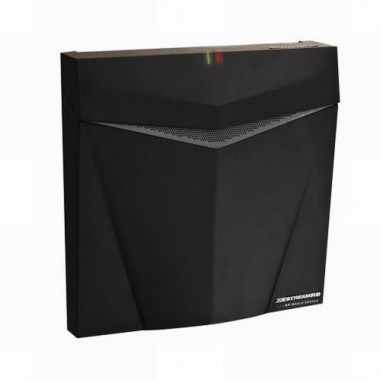 The server has three ATSC tuners and a Network Video Recorder, meaning you can watch three different HD titles at once while also reviewing recorded media, and storage options currently range from 500GB through 1TB and 2TB.  Drives – provided by Seagate – slot into the two internal bays, or you can augment them externally via an eSATA port.

Click for full-sized image
There's gigabit ethernet for home distribution, HDMI (or component and digital audio-out) on each receiver, front-panel mounted USB ports for MP3 audio downloads and the ability to operate as a business-class personal PBX for your home VoIP network (including free calls between XStreamHD customers); like a Tivo the XStreamHD system learns from your viewing patterns and automatically updates your personal video library with new content.  They even claim that the "Adaptive Recording" means you'll never miss the beginning or end of a show, even if the schedule suddenly changes, but that really does sound like witchcraft to me.
XStreamHD also plan to offer older titles via your home broadband link, and the system is DLNA-compliant so it will stream to compatible TVs and consoles.

Click for full-sized image
The starter kit, comprising the satellite dish, server and a single receiver, will be priced at $399, and is apparently straightforward enough to not require professional installation.  It should be available in Q4 2008.