CES 2008: Delphi's Universal Hub For Straightforward In-Car Customisation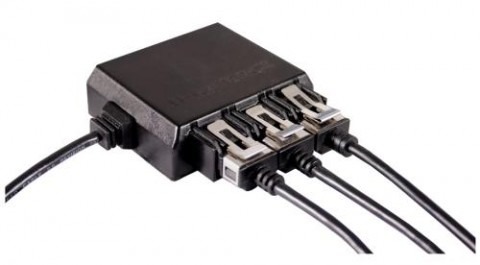 This may look like an ugly USB hub, but it's actually much more than that – it's Delphi's hat-tip to the fact that computing has flourished by having industry-standards in connectivity for the past few years, that users might want to come and plug PMPs, memory sticks and more into their car's ICE system, and that manufacturers may think about giving them the USB, audio and video socketry to do that.
The Delphi Hub is therefore a universal interface that bridges the car's electronics with any number of customised connections around the cabin: anything from a USB port that you can hook your iPod up to, to headphone connections hidden in armrests and memory-card slots for reviewing photos on the inevitable numerous LCD screens.  What makes it special is the fact that they're planning on using USCAR-30 compliant interfaces which should put an end to proprietary cabling. 
Having such a system pre-installed in the factory as standard would make it more straightforward for manufacturers and dealers to customise cars later on, rather than needing to order it well in advance or send it back to the factory.
They're promising that the hubs will be appearing in Delphi vehicles by 2010.