CES 2008 : Casio Reveals Full Specification Of World's Fastest Digital Camera, The EXILIM Pro EX-F1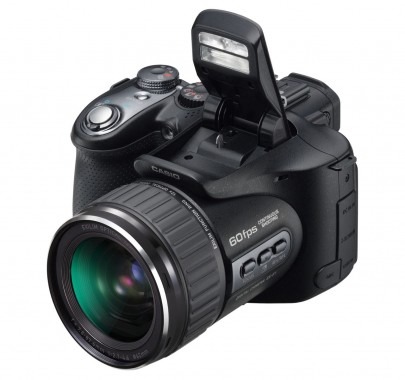 Casio teased us with a prototype of World's fastest camera back in September; they have the full specification just in time for CES 2008. The EXILIM Pro EX-F1 6 megapixel uses a high-speed CMOS sensor and it is capable of 60 frames per second capturing speed at its largest resolution up to a whooping 1,200 frames per second at 336 x 96. Optical path uses a 12x optical zoom with 35mm equivalent of 36 to 432mm in aperture of F2.7 to F4.6. The EXILIM Pro also has a sensor-shift image stabilization aka built-in body stabilization to help with users that failed the marksmen test.
To ensure EXILIM user not to miss a single moment, Casio engineer uses prerecord still image technology before even the shutter is released. The pre-shutter recording has a limitation of 60 fps in continuous sequence; they are captured and stored in camera built in memory buffer.
In movie mode, Pro EX-F1 up the ante to include a full scale 1080 at the rate of 60 fields per second. Lower HD mode of 720p is also supported as well as high speed modes of 512 × 384 (300 fps), 432 × 192 (600 fps) and 336 × 96 (1200 fps)
Frequent flash flyer has the choice of using rapid flash function that enables flash to be used concurrently in high speed mode up 7 frames per seconds with 20 continuous shots, impressive!
The display uses a high res. 959 × 240, 2.8-inch wide TFT color LCD. Output connectivity including USB/AV port and HDMI mini connector; Storage supported SD/SDHC and MMC/Plus and runs on a a rechargeable lithium ion battery.
The EX-F1 will be available in March 2008 for a $999.99 retail price.
Casio EXILIM Pro EX-F1: 60fps [via dpreview]