CES 2000: LG HFB-500 Solar Bluetooth Speakerphone hands-on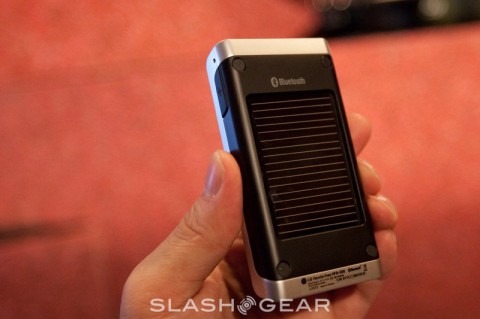 As well as LG's new plasma and LCD TV ranges, SlashGear had the chance to spend some hands-on time with the LG HFB-500 solar-powered Bluetooth car-kit speakerphone at CES 2009 this morning.  The compact device can be recharged either by a standard AC connection – with an in-car adapter provided – or by leaving it on the dashboard to soak up the sun. 
On a full charge, you'll get up to 16hrs talktime or up to 1,100hrs standby.  The HFB-500 supports both the headset and hands-free Bluetooth profiles, and we had no problems quickly pairing it with several handsets and smartphones we brought with us.  Depending on your cellphone the solar speakerphone supports last number redial, voice dial, call reject and call waiting, and will auto-reconnect when you come into range.
Two phones can be connected simultaneously, useful if you're travelling with another person, and there's onboard echo cancellation and noise reduction.  In the somewhat testing environment of CES sound quality was fair; we'd expect the HFB-500 to perform better in a car, where it would only have to deal with ambient road noise.
While being inside the show hall meant testing out the device's solar credentials proved impossible, LG are claiming 30 minutes of talktime per 3hrs of sun exposure.  The LG HFB-500 Solar Bluetooth Speakerphone should be available now, priced at around $99.99.