Cervantes Mobile Jorno Bluetooth keyboard for iPad, iPhone 4 & Dell Streak revealed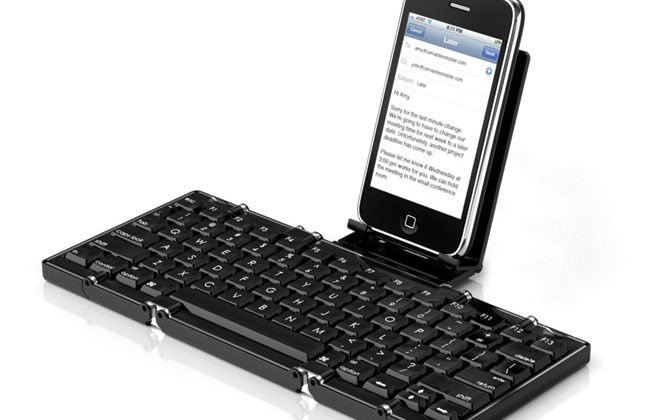 Bluetooth keyboards seem to have returned with a vengeance, as users of touchscreen devices like the iPhone and iPad discover that a few hardware keys can make all the difference at times.  Cervantes Mobile has launched its own offering to the segment, in the shape of Jorno: it folds out to an 85-percent of full-size keyboard and hooks up via Bluetooth.
The company reckons you'll see a month's use from a single charge of the battery (it rejuices via miniUSB) and the whole thing measures in at 3.5 x 3.5 x 0.9 inches when folded or 8.5 x 3.5 x 0.3 inches when unfolded.  There's a list of supported devices here, but we're guessing most will be picking it up for use with the iPhone 4, Dell Streak, iPad and iPod touch.
The Cervantes Mobile Jorno is available to pre-order now, priced at $79.  It's expected to ship early in 2011.
Press Release:
Cervantes Mobile Announces Jorno, the Pocket-Sized Folding Bluetooth Keyboard for iPhone, iPad and Android Devices

Innovative portable keyboard now available for pre-order at a special price

Los Angeles, CA – September 21, 2010 – Cervantes Mobile, a provider of input productivity solutions for iPhone and other touch screen handheld devices, is proud to unveil the Jorno keyboard. This foldable Bluetooth keyboard turns your iPhone, iPad or Android device into a fully functioning laptop.

"We are thrilled to offer consumers a much-needed portable solution for their touch screen mobile devices," said Scott Starrett, CEO and Founder, Cervantes Mobile. "We are committed to answering consumers' demands and providing the most up-to-date solutions."

The Jorno keyboard folds down to a compact size to easily fit in your pocket or bag, and includes a detachable cradle to hold your device in either portrait or landscape orientation. Bluetooth connectivity allows you to pair the keyboard to your mobile device and position the keyboard anywhere you like. The keyboard is also rigid when unfolded, allowing placement in your lap. With the Jorno Bluetooth Keyboard, you can write emails, take notes and enjoy an efficient, portable way to type on your mobile device.

The Jorno Bluetooth Keyboard will be available early 2011 for $99 MSRP, but can be pre-ordered now for only $79 at www.jornostore.com.