Cenio's new royal court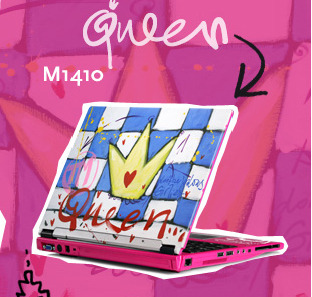 I know we have our fair share of custom tech items these days. Where some designer walks in and makes our bland tech items all shiny and pretty. Of course most of us eat that stuff up, because frankly we are bored with gray. Really who chooses gray?
This new line of laptops has both a king and a queen. Sadly, the king has a larger screen and hard drive, because obviously the wee little girlies don't need that sort of power. The laptop is by Cenio, who besides this line makes laptops in almost any color. This one was designed by the dutch artist Selwyn Sanatori, but only one hundred will be made and signed by him.
The Queen version has 100GB and the King 120GB, and both have a 7 in 1 card reader, DVD/CD Combo, and built-in webcams.
You might be saving up for a while for this one since it is priced at $3,000. My advice would be to buy a laptop and some fancy pens and let some artistically inclined friend of yours go to town on it.
Fit for a Queen or King [via techie diva]