Celio Planning BlackBerry & Android Support For REDFLY Smartphone Companion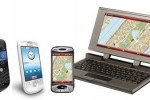 Celio are looking to broaden support for their REDFLY smartphone companion device, tipping compatibility with RIM's handsets and potentially Google's smartphone platform.  The company is apparently looking into developing BlackBerry support for the REDFLY devices by the end of 2009, with Android likely to be the next candidate after that.
The REDFLY devices resemble netbooks, but in fact are intended to be used as interface devices with a user's Windows Mobile smartphone.  7-inch and 8-inch models are available, providing more screen space for the smartphone, and the devices have QWERTY keyboards and trackpads for easier text-entry and navigation.
While waiting for BlackBerry and, later Android support, Celio are looking to boost sales of their existing range by reducing prices.  The 7-inch REDFLY C7 is now priced at $199, a reduction of $30, and offers 5-hours of battery life; meanwhile the 8-inch REDFLY C8N, which has an 8-hour battery, has seen a $50 cut to $249.