CeBIT raids seize pirate iGO software at multiple booths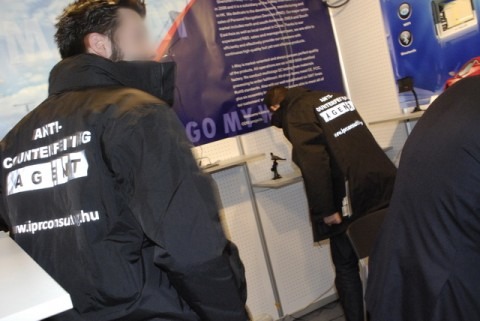 Everyone likes a bit of excitement at a tradeshow, and CeBIT's came from a raid by anti-counterfeiting agents investigating three different booths for offering pirated NNG iGO My way navigation software.  The three companies involved have not been named, but one was apparently showing cracked iGO software just meters away from the official NNG booth.
The other two under investigation claimed to have strong working relationships with NNG, when talking with potential clients.  However the iGO software running on their sample devices was found to be pirated.
Investigations had been carried out by IPR Consulting, a dedicated trademark and IP protection firm, brought in by NNG after cracked versions of their navigation software began to proliferate.  NNG licenses its tech to companies including Clarion, LG and Sony.
Press Release:
Pirated iGO My way Navigation Software Seized at CeBIT!

German authorities take action over pirated iGO My way software at three different booths at CeBIT 2009. The regional prosecutor's office issued an order for regulatory measures after representatives from IPR Consulting reported the fraud and submitted evidence to the authorities.

Representatives from IPR Consulting carried out targeted monitoring at CeBIT 2009 in Hanover, as risk analyses had indicated that several companies would be offering pirated software.

German authorities took action over pirated iGO My way navigation software in three cases at this year's CeBIT exhibition. Only a few meters away from the booth of NNG Global Services, a company of Chinese origin was promoting itself as well as its products as iGO My way, which later proved to be cracked software copies. The Chinese citizens, upon the customers' request, pulled the cracked iGO My way software out of their pockets. "The vendors will have to take responsibility not only for selling pirated software, but also for infringement of NNG Global Services trademarks," explains András Fazakas, Chief Operating Officer at NNG Global Services.

In two other booths, the vendors were speaking very convincingly about their strong relationships with NNG Global Services. They were found to be using pirated iGO My way navigation software on their navigation devices. One company quoted a special price for the software – which, they claimed, was the result of an agreement with NNG Global Services. In both cases the Hungarian software development company, however, has never heard of the companies in question.

The above actions are part of a series of raids conducted internationally by a trademark protection company, commissioned by NNG Global Services to curb illegal software use.

About NNG Global Services

NNG Global Services is part of a group of dynamic, innovative software development companies offering the latest solutions for 3D satellite navigation, mobile applications and content/community services on a variety of platforms. The group also develops its own mobile games and digital maps. The group launched its first product in Germany at CeBIT 2006. Since then, it has formed partnerships with more than 70 hardware manufacturers worldwide, with 25 A and B brands including Clarion Europe GmbH, LG Electronics and Sony Computer Entertainment Europe. The group provides reliable navigation solutions in more than 70 countries and in 45 different languages.

To find out more about NNG Global Services please visit www.i-go.com and visit the NNG Global Services booth in Hall 14, booth G14 at CeBIT 2009.