CDs are dead, focus on digital downloads for profit, advises Gartner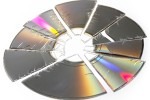 Gartner have called for music labels to focus on online distribution of music, together with on-demand delivery, and accept that CDs are a dying technology.  The information technology research and advisory firm described CDs as reaching a revenue peak at the turn of the century, but experiencing an inevitable decline now that broadband speeds and had become fast enough, and PMPs attractive enough, to make electronic distribution feasible.
"Music labels should instead emphasise 'digital first', making all new releases and catalogue issues via digital services and moving CD to an on-demand publishing mode" Mark McGuire, research vice president, Gartner
Rather than maintain a large stock of CDs, which requires predicting sales performance and making a significant financial investment, McGuire suggests instead that retailers could burn discs on-demand.  This would reduce shipping costs as well as storage issues; it would also bring less mainstream music, which traditionally struggles to secure shelf-space, into the spotlight.
As has been already raised by many pundits, Gartner suggests that the recording industry is not yet making the most of the different possibilities of marketing, promotion and distribution the new, connected era allows.  To remain profitable, the company asserts, music labels should look to transition away from physical pre-recorded CDs before Christmas 2009.
[via Pocket-lint]