Caterpillar B15 Rugged Smartphone Hands-On: Surprisingly Well Balanced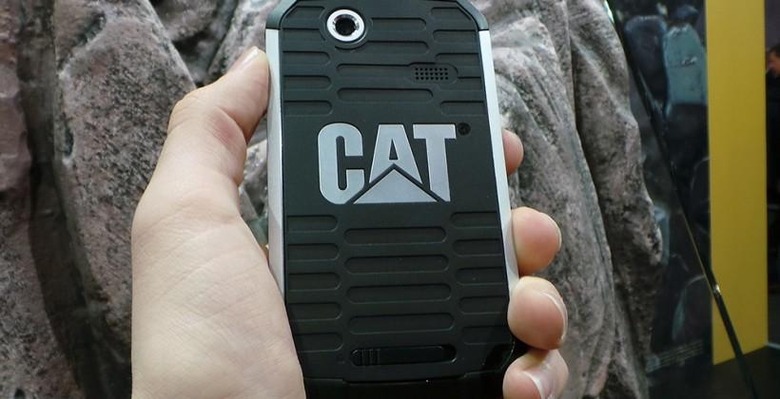 If you've ever used a "rugged" smartphone or tablet before, you'll be surprised to hear that the newest of these rare unicorns is not slow and stunted like those of the past have been – instead the CAT B15 is a rather well balanced device. We've had a peek at the B15 from CAT (or Caterpillar, however you like), and found it to be both obviously able to withstand a beating and appearing to run as quick in its Android implementation as we'd expect a 2013 device to be.
WIth the B15 you're getting a dual-core 1Ghz Cortex A9 processor powering a 4-inch 800 x 480 pixel resolution display along with 512MB of RAM and 4GB of internal storage. There's a microSD card slot inside able to take on 32GB of additional storage, and the whole phone is ready to fit in the palm of your hand easily – especially if you're a construction worker or massive person of sorts, generally the type to get into situations where such damage-resistant features as this one has will come in handy. But the audience this device has is not limited to those that pick up and smash down large rocks!
You'll be working with aluminum (or aluminium, depending on how British you are), and shock-absorbing rubber on the outside. This is a device that will not – ever – need a case to protect it. The display up front is covered by Gorilla Glass (though we're not sure at the moment if it's Gorilla Glass or Gorilla Glass 2), and the aluminum and rubber frame comes up ever-so-slightly around the edges so if your device falls to a flat surface, the display will be further protected. You'll see a couple of DEATH-DEFYING DROPS in the hands-on video above.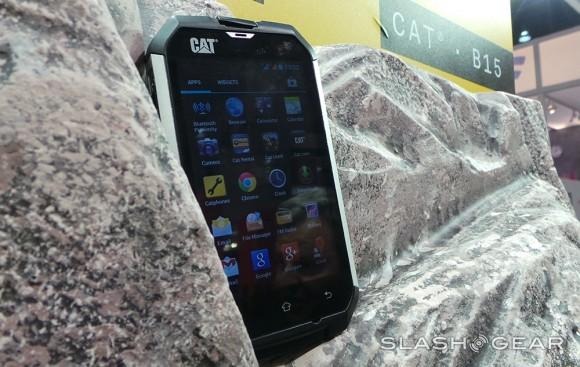 The CAT B15 is able to drop from a height of 6 feet, fall onto concrete, and survive to tell the tale. You'll also be working with 3 feet of water protection as the whole of the device is sealed with more shock-absorbing rubber for the safety of its innards. Heat is also protected against up to 122 degrees Fahrenheit as well as cold, down to -4 degrees Fahrenheit.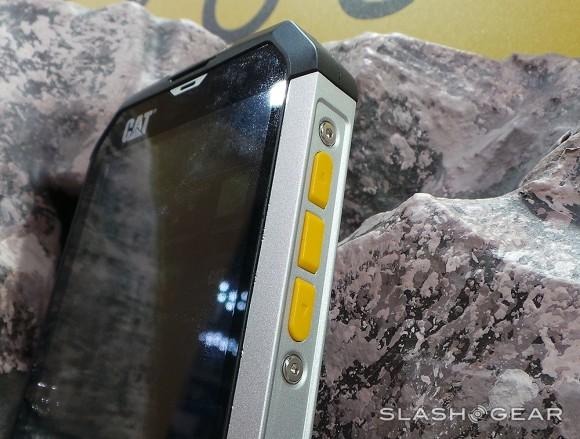 You'll be picking this device up in March if you live in one of the 50 countries the device is launched in across the world at first for right around 299 Euro. At the moment though we've heard from CAT that the device is planned for USA release in April, pricing has not been decided as deals with carriers have not been finalized. We shall see soon enough!
Be sure to have a peek at the rest of our up to the minute news blast and hands-on collection in the Mobile World Congress 2013 tag portal here on SlashGear. We'll be here all week, and we've already seen quite a bit of excellent bits and pieces from manufacturers and developers of mobile greatness alike!