Casio Pro Trek WSD-F21HR smartwatch adds heart rate monitor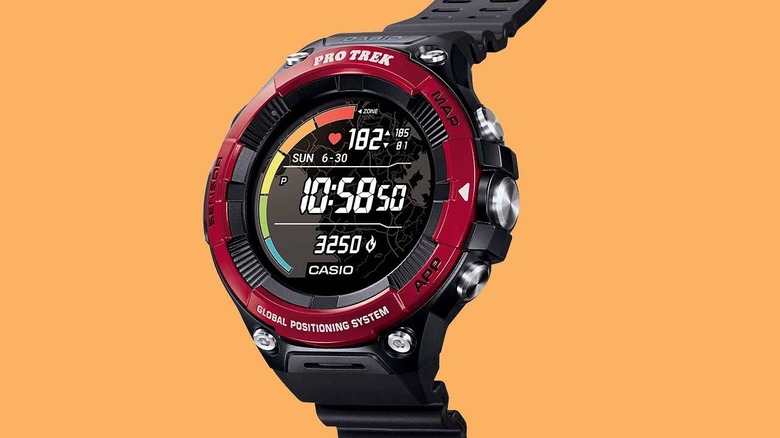 The newest smartwatch from Casio carries the same Casio Pro Trek nomenclature of the 2017 device from the same brand. This version of the watch brings updated specifications throughout the hardware, including a new heart rate monitor/optical sensor and new abilities using Google's Wear OS. This device is extremely similar to its predecessor – almost shockingly similar.
The big deal with this newest version of Casio's vision for a rugged smartwatch is the addition of an optical sensor. This new sensor "measures users' heart rates by flashing an LED light onto the wrist."
Heart rate information captured by this watch can be displayed on a Casio Heart Rate watch face. This watch face is unique to this specific watch (for now) – and it allows an automatic switch to the heart rate monitor screen (within the watch) when motion is detected by the watch's accelerometer.
This watch allows users to measure their body's maximum oxygen consumption per minute per kilogram of body weight. Users can also view information like heart rate max and minimum for the day, exercise "intensity" (via heart rate zone) over five different levels – and a whole bunch of other quantifiable elements via Wear OS apps that utilize this device's sensors.
This watch has access to Google App services of all sorts – since it's a Wear OS watch, it'll be able to run a whole bunch of Wear OS apps. One of these is the Casio Activity app. This app can track GPS data and automatically save said information to Google Drive. Activity history can be connected to Google Calendar as well.
This watch will be released very soon at "select jewelry and watch retailers" across the United States. This device goes by the name Casio PRO TREK WSD-F21HR and will be available in black and red. You'll be able to purchase this device for approximately $500 USD.